UNB offering improv classes to help students to combat social anxiety
Author: UNB Newsroom
Posted on Jan 11, 2019
Category: myUNB , UNB Fredericton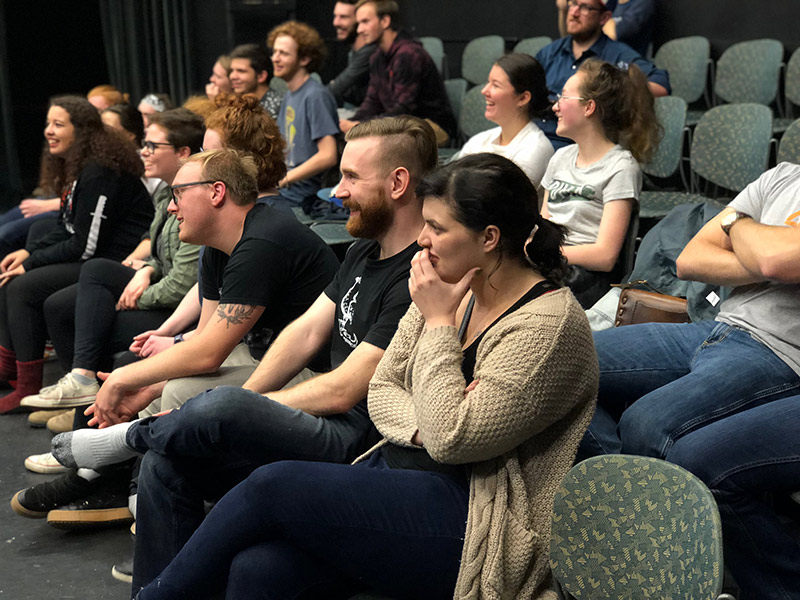 Many students find it difficult to navigate social situations and connect with others, especially when it comes to their peers within professional and educational settings. This sometimes prevents them from making friends and connecting with colleagues, and can have deeply affect their ability to engage in group activities or projects.
Counselling services staff at the University of New Brunswick's Fredericton campus hope to change that.
A new improv class was first offered last fall, where students had the opportunity to learn improvisational theatre in a structured and safe environment. Matthew Maclean, mental health strategist at UNB, initially recommended the use of improv classes as a way to help students build confidence when interacting with others.
"One reason this program is so important is that, in everyday life, we don't really get opportunities to play and explore with social behaviour because it seems like every social interaction is potentially of great consequence," says Mr. Maclean.
"Social skills are skills like any other. And, like any other skill, we can't get better by attempting the hardest part first, such as going to a party or attending a meeting where you don't know other people. We need opportunities for easier challenges, with reduced stakes to help build our skills and confidence over time."
"Through this program, students learn that it's okay to not always know what to say and that others are not paying as much attention to them as much as they think."
The improv workshops are run by Hot Garbage Comedy, an improv company based out of Fredericton and Toronto.
The next session of improv begins on Jan. 14. The classes run for three weeks, from 6:30 – 7:30 p.m.
For more information or to register, contact Counselling Services at counsel@unb.ca or 453-4820.
Media contact: Angie Deveau
Photo: L-R: Duncan Chalmers, Derek Smith and Kat Hall participate in a new improv workshop offered on the University of New Brunswick's Fredericton campus. Credit: Arianna Martinez.