Eaton family renews Fredrik S. Eaton Chair in Canadian Army Studies
Author: Development and Donor Relations
Posted on May 23, 2023
Category: News and Events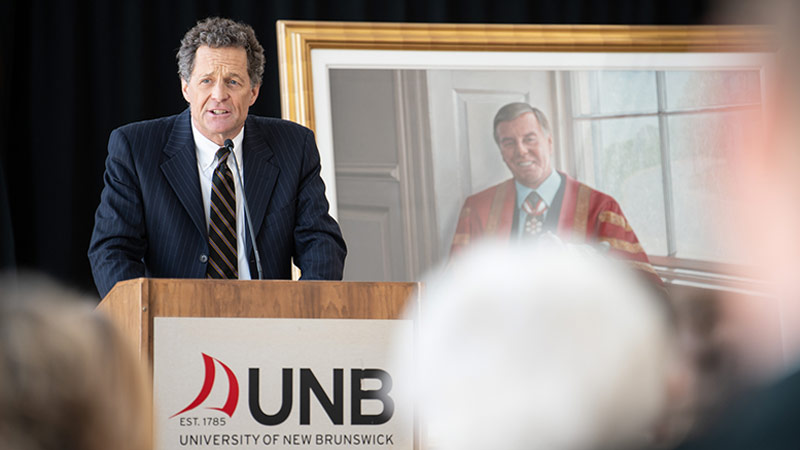 ---
The University of New Brunswick (UNB) and the Catherine and Fredrik Eaton Charitable Foundation are pleased to announce a gift of $1 million to make permanent the Fredrik S. Eaton Chair in Canadian Army Studies. The chair is housed within the Brigadier Milton F. Gregg, VC, Centre for the Study of War and Society on UNB's Fredericton campus.
A UNB alumnus, Dr. Fredrik S. Eaton, O.C., O.Ont. served as the university's chancellor from 1993 to 2003. He was the former High Commissioner for Canada to the United Kingdom of Great Britain and Northern Ireland and the former chairman, president and CEO of the T. Eaton Co. An unfailing supporter of the university, Dr. Eaton received a bachelor of arts in 1962 and an honorary doctor of laws degree in 1983 from UNB. He died in 2021. A celebration of his life and legacy at UNB was held on the Fredericton campus on March 29, 2023.
UNB President and Vice-Chancellor Dr. Paul J. Mazerolle praised Chancellor Eaton's life of service to the university and the Eaton family's continuing commitment to UNB.
"When we lose a champion, as we recently did with Dr. Eaton, I think it is very important that we gather together as a community to honour their contributions to the university we have become and to UNB's positive and growing impact on our province, nation and world," said Dr. Mazerolle.
"Fredrik S. Eaton helped our university to realize its full potential as an engine for economic development and an incubator for leadership, innovation and collaboration. We are proud to have the Catherine and Fredrik Eaton Charitable Foundation as a champion as we work toward achieving our university's strategic vision, UNB Toward 2030," said Dr. Mazerolle.
The Fredrik S. Eaton Chair in Canadian Army Studies was created by Dr. Eaton in 2013 to connect citizens to the Canadian Forces and to further the professional development of the Canadian Army. The Catherine and Fredrik Eaton Charitable Foundation's renewal of the Fredrik S. Eaton Chair will enable the Gregg Centre to build on its internationally recognized research, undergraduate and graduate teaching, public engagement, scholarly publications and expertise in all aspects of modern conflict.
The Catherine and Fredrik Eaton Charitable Foundation's gift to renew the chair was announced by Fredrik S. Eaton's children, trustees Fredrik D'Arcy Eaton and Catherine Eaton Coakley.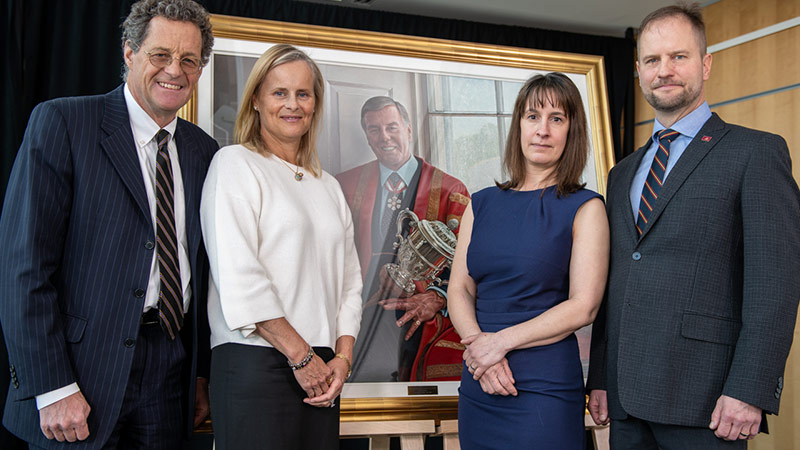 "My father often told us of how UNB had been a seminal time in his maturation as a man," Fredrik D. Eaton said. "It was a place where he could be away from the pressures of our family reputation and thereby grow into his own man. For the rest of his life, he strove to give back to UNB some measure of the gifts that the university had given to him.
"One of the goals of the Fredrik S. Eaton Chair has always been to provide information and skills to our military so that when they do face dangerous situations, they might have a better chance of returning safely from their missions," said Eaton. "Our family thinks this gift is a fitting tribute to some of the things my father cared about so much."
Dr. Joanne Wright, UNB's dean of arts in Fredericton, said the family's gift underlined the public impact of Chancellor Eaton's legacy at UNB.
"Dr. Fredrik S. Eaton marshalled his own resources and the resources of many like-minded people to help UNB generate greater impact in the world and earn wider recognition," said Dr. Wright. "This gift will ensure that UNB can continue its scholarly collaboration with the Canadian Army, benefitting researchers, educators and students across the country for years to come and strengthening our consciousness of ourselves as members of a nation."
Dr. Lee Windsor, the Fredrik S. Eaton Chair in Canadian Army Studies and co-director of the Gregg Centre, said it is the duty of the chair "to research and promote discussion on the role of the Canadian Army, and armed forces more broadly, in our world. Our goal at the Gregg Centre is to enable students, citizens, policymakers, and armed forces members to critically examine modern conflict and military organizations to encourage informed decision-making in a complex world.
"The intellectual readiness of Armed Forces members and leaders at every level matters to all Canadians," said Dr. Windsor. "Chancellor Eaton understood that this is a prerequisite to protecting our diverse society and building a better and more peaceful world. The Gregg Centre is grateful for his patronage and the generous support of the Eaton family."