The McKenna Institute and UNB announce $300,000 gift toward digital sustainability
Author: Development and Donor Relations
Posted on Mar 9, 2023
Category: News and Events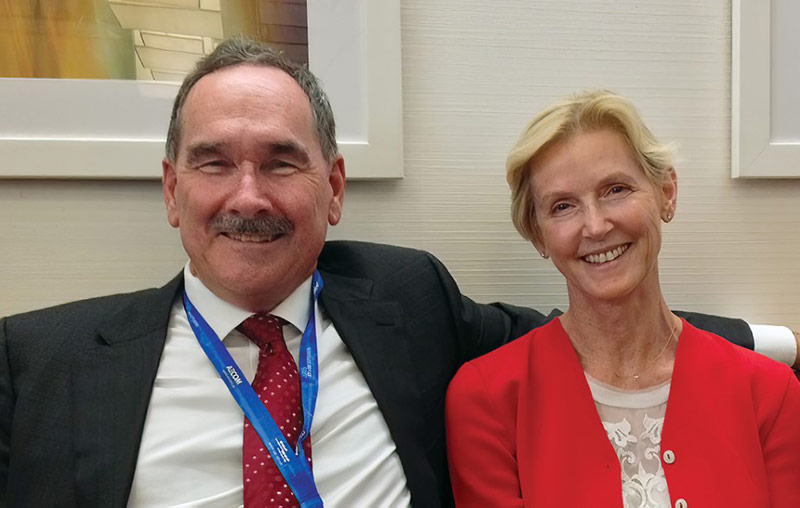 ---
The McKenna Institute and the University of New Brunswick (UNB) are pleased to announce a $300,000 commitment from Sackville, N.B. business and community leaders Jane and Mike Wilson (BScChE'75) in support of digital sustainability in New Brunswick, as well as environmental sustainability through a digital lens.

This gift funds the Wilson-McKenna Fellow in Digital Sustainability and the Frank McKenna Institute endowment, reinforcing the Institute's long-term commitment to economic growth, social progress, and digital sustainability in New Brunswick and beyond.

The most recent addition to the prestigious McKenna Fellows program at UNB, the Wilson-McKenna Fellow in Digital Sustainability will focus on the power of technology to further enhance environmental, social, and governance (ESG) reporting for organizations across the globe and to be a catalyst for digital solutions to sustainability strategies. The Fellow will research, examine, and promote ESG through a digital lens, contributing to the development and teaching of curriculum around digital sustainability in the context of ESG.

The McKenna Fellows program supports collaboration across industry, academia and government, engaging stakeholders, faculty and graduate students to ensure good ideas are examined and executed within New Brunswick.

The Frank McKenna Institute endowment reflects and honours Dr. Frank McKenna's commitment to the province, the region and the country and will ensure the long-term impact and sustainability of the Institute as a catalyst for economic growth and social progress in New Brunswick, in perpetuity, by advancing the use of digital technologies.

"Environmental, social, and governance initiatives are very important to our family, both personally and professionally. ESG is about building a more sustainable, resilient future, a goal we are proud to share with Frank McKenna, The McKenna Institute, and UNB," said benefactors Jane and Mike Wilson.

"Digital sustainability encompasses a wide range of technologies across the digital, physical, and social spheres," said UNB's president and vice-chancellor, Dr. Paul J. Mazerolle. "By focusing on the power of technology as a means to bolster important work in ESG, the Wilson-McKenna Fellow on Digital Sustainability will advance UNB's strategic vision: to enable positive social change across our communities. We are tremendously grateful to Mike and Jane Wilson for this vote of confidence in the change-making that is underway at the McKenna Institute and UNB."

Founded in 2021, The McKenna Institute builds upon the life's work of its benefactor, The Honourable Frank McKenna, PC, OC, ONB, QC, serving as a catalyst and a connector for academia, industry and government to foster a globally competitive digital economy and society.