UNB's Schulich Leaders thriving in first year
Author: Development and Donor Relations
Posted on Jan 9, 2023
Category: Creating Opportunities for Students , News and Events , Scholarships and Bursaries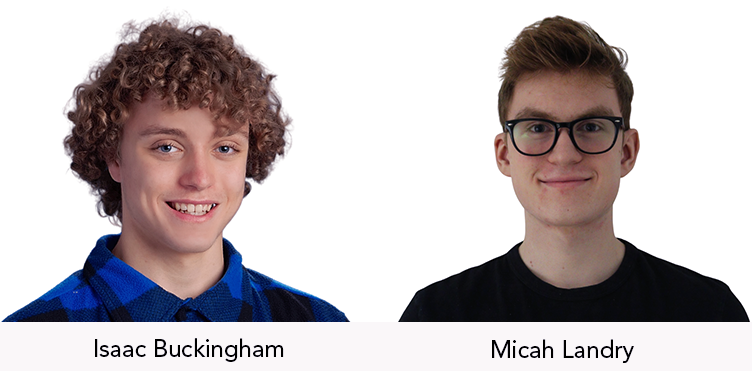 ---
Micah Landry and Isaac Buckingham are thriving in their first year at UNB, thanks to the prestigious Schulich Leader Scholarship.

Schulich Leader Scholarships, Canada's premier Science, Technology, Engineering and Math (STEM) scholarship program, has been supporting Canada's top entrepreneurial-minded technology innovators for more than a decade. One hundred undergraduate scholarships are awarded annually across 20 Canadian universities, and in 2023 the values will increase to $120,000 or $100,000 per award. UNB awards two Schulich Leader Scholarships to outstanding students each year.

This year, Isaac Buckingham is UNB's recipient of the $100,000 Schulich Leader Scholarship in engineering. Isaac is in the first year of the bachelor of science in engineering program on UNB's Fredericton campus. Originally from Corner Brook, Nfld., Isaac's academic record is accompanied by an impressive athletic history; he has represented Team NL in both alpine ski racing and beach volleyball.

Micah Landry of St. Stephen, N.B. is UNB's 2022-23 recipient of the $80,000 Schulich Leader Scholarship. A student in the bachelor of computer science program on UNB's Fredericton campus, Micah also has an elite athletic record, having competed at the national level in track and field. Thanks to the freedom from financial stress that the scholarship affords him, Micah has been able to pursue several extracurricular and academic interests, including UNB's cybersecurity club. He was part of a team of three current UNB Schulich Leaders in the IEEExtreme Computer Programming, an international twenty-four-hour competition, which Micah says was the highlight of the semester. The team placed 2nd of 34 in Canada.

Both Micah and Isaac are enthusiastic in their gratitude for the scholarship. "It's hard to understate the impact that the Schulich Leader Scholarship has had even just one semester in," said Micah. Isaac agreed, adding that "the most important part of the Schulich experience to me has been the connections and the people I have met."

The two Scholars have become close friends in their short time at UNB, collaborating on projects like the RBC UNBeatable Ideas competition and making exciting plans for future projects. "I am truly grateful for the opportunities to connect with people like Micah that I have had because of the Schulich Leader Scholarship," said Isaac.

"Its humbling being part of a such an optimistic and hard-working group," said Micah. "It's a mentality hard to find elsewhere, and I'm inspired by my peers around the country to keep moving forward each day."

Learn more about the Schulich Leaders Scholarships. Nominations for 2023 are due Jan. 31.