Sweat Club founder Laura Clendenning (BScKin'12) helps people fall in love with their health and fitness
Author: UNB Alumni
Posted on Nov 25, 2022
Category: UNB Fredericton , Kinesiology , Inspiring Stories , Young Alumni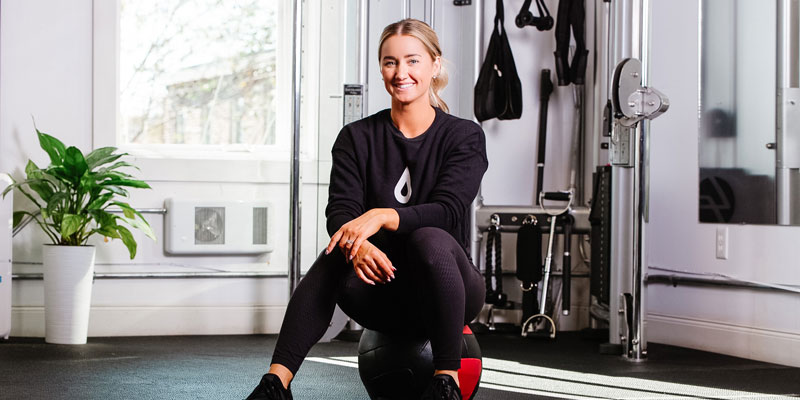 ---
What began as a love for leading a healthy lifestyle and working one-on-one with clients in her apartment complex, has transformed into opening a boutique-style gym in the heart of downtown Fredericton.
Sweat Club founder and head coach Laura Clendenning (BScKin'12) says that being a woman in business and a woman in the fitness industry is empowering, but it took her a few career changes to fall into her path as a gym owner.
Now, nothing can stop Clendenning from growing and pursuing her passion - not even a global pandemic. She opened Sweat Club in May 2019, less than a year before gyms and businesses closed due to COVID-19.
Sweat Club is a boutique gym, offering up to six, small group classes per day. The classes focus on circuit training and functional training, utilizing cardio machines, cable machines, dumbbells, squat racks and more.
In addition to group classes, the team also offers private personal training sessions, monthly postpartum classes, fitness challenges, nutrition services and an online membership with a catalogue of over 200 virtual classes, that were born as a result of the pandemic.
"We're a high energy team and we have really great trainers," says Clendenning. "We make it very modifiable, so we have everyone from triathletes to first time gym goers. There's something for everyone."
Clendenning says she never expected to open a gym, but had thought about starting a fitness supplement brand after working in the industry in Vancouver, B.C. for a brief period after graduating from UNB's faculty of kinesiology. The pandemic gave her the push she needed to pursue her dreams, so she started Sweat Supplements in December of 2020 alongside running the gym.
Her product line includes marine collagen, pre-workout and recovery supplements that can be purchased online, in the gym and in select stores across New Brunswick, Nova Scotia and soon, Newfoundland.
"When you're in the service-based business, a lot of time is spent with the client. But I learned I needed to spend 50 per cent or more of my time to work on my business, which was a big challenge to step back and revaluate."
Sweat Club and Sweat Supplements have seen a lot of growth throughout their short time in business, but Clendenning says she is always thinking about what they can do to grow their community, stay innovative, expand their supplement line and improve their online platform.
"In fitness alone, working out makes me feel strong and empowered and that translates to being a business owner. My two businesses are male dominated, so it feels good to be part of breaking the stigma. At the end of the day, I can't imagine doing anything else. Fitness is a very exciting industry."