Building an outstanding IT career right here in New Brunswick
Author: UNB Alumni
Posted on Nov 18, 2022
Category: Inspiring Stories , Computer Science , UNB Fredericton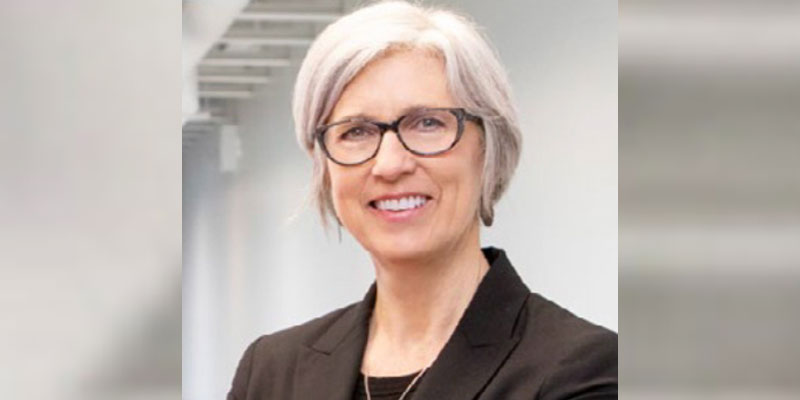 ---
Mary Goggin (BScCS'82) is very modest about her success in the IT field, but her track record speaks for itself.
Mary's been instrumental in the growth and development of several IT consulting companies, including CGI and the company she co-founded, Accreon Inc. She's been a sought-after project manager, technology expert and business strategist, having made a significant impact in New Brunswick as part of the Premier's Advisory Council on Technology, in Fredericton as the Chair of the Fredericton International Airport Authority, and at UNB as an advisor on the university strategic plan and the growth of the Faculty of Computer Science.
A Saint John native, Mary excelled at math and physics, and pursued a degree in data analysis at UNB Saint John. "It was the late 70s and computer science was a new field that I didn't know much about. But I really liked problem-solving, so I transferred to the Fredericton campus for the computer science program for my last two years. I loved it. I loved programming - where I could dive into figuring out how to make things work. The faculty members were tremendous and we had a very tight community. Many of us stayed right in New Brunswick for our whole careers."
When she graduated with a Bachelor of Science in Computer Science degree in 1982, it was a difficult time for new grads to find work in the field. She went to Halifax and was hired on by a consulting company doing work with governmental agencies, and was moved back to Fredericton to work on a large project in public housing. "I learned so much in those early years from so many great people, many of them also UNB grads."
When the consulting company she was working for was purchased by CGI, Mary continued learning and working on even larger projects. She became an expert in programming, analysis and project management, successfully developing and delivering large projects from beginning to end for her clients – primarily government agencies including healthcare and social services. "This was at the time when automation was rolling out, so in many cases we were building the first electronic files, the first integrated digital systems for immunizations and electronic medical records. We built information systems, recording and organizing data and making it accessible to front line workers providing services to New Brunswickers."
In 2006 she left CGI and co-founded an IT services company that became Accreon Inc., one of the largest, privately held IT and business solutions companies in Atlantic Canada. Mary was, responsible for services delivery and corporate programs. "We had offices in Fredericton, Charlottetown PEI and Boston . It was exciting to deliver and oversee big projects that moved healthcare forward and supported corporations with information systems. By 2015, when we were purchased by a group out of the United States, we had over 60 people." 
"Throughout my career, I was always really fortunate to work with good people with diverse skills. I continually learned from them. Working within a teamto problem-solve and deliver solutions is really enjoyable. In the IT world, things are always changing so you have to be open to learning and collaborating as a team. It's challenging and also very rewarding. That's what I always loved about computer science right from my days at UNB – and many other women in my classes felt the same way. At that time, there were a good  number of women studying computer science , and we went on to have very successful and flexible careers in IT. What's most exciting is that we were able to be successful right here at home in New Brunswick! It's been a lot of fun."
Mary remained connected to the Computer Science faculty and UNB.  She co-chaired the faculty's Industry Advisory Board and was the alumni representative for UNB's lastest strategic plan. She retired in 2016, but has remained very involved in the community, applying her project management and strategy skills to continue her career of "building." She sits on the Board of the Fredericton International Airport Authority, four as Chairduring the construction and completion of the terminal expansion project as well as throughout COVID, which was a very challenging time at airports.
"UNB is doing great work in building capacity and creating collaboration between academia, industry and government to drive digital innovation in New Brunswick. The students that come out of UNB have always been highly skilled – we've hired co-op students and grads throughout my career. The vision to grow the Faculty of Computer Science and build even closer ties with industry will be beneficial to the province and shine a light on the talented people and innovative ideas we have here. I am so very proud to be a UNB CS grad and excited about the future of the faculty and UNB.