First-year tuition contest winner follows in parents' footsteps
Author: UNB Alumni
Posted on Oct 21, 2022
Category: UNB Fredericton , UNB Saint John , Inspiring Stories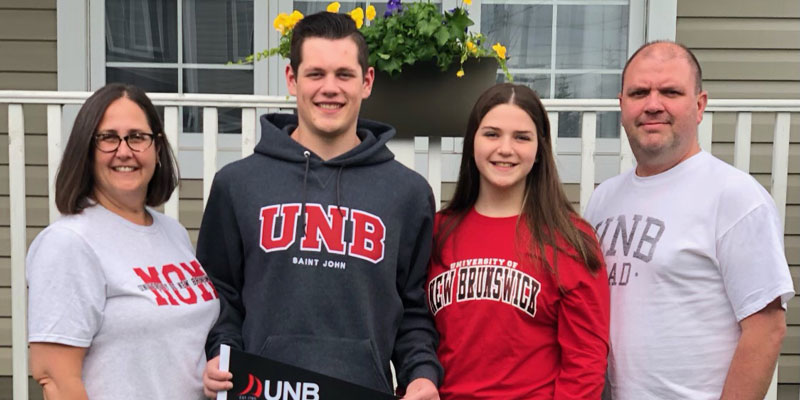 ---
When their son Ethan won UNB's first-year tuition-free contest, Blair (BPE'97) and Krista (MacFarlane, BA'95, MASRA'99) Tucker weren't just excited that his first year would be paid for, but that he would be attending the university that means so much to them.
Blair and Krista met at UNB. Blair, who hails from Newfoundland and Labrador, played varsity soccer, and lived in Aitken House; Krista, originally from Nova Scotia, lived in McKenzie House. They met through mutual friends in residence.
"I had a cousin who attended UNB, and I had visited Fredericton while playing in a hockey tournament while in high school, so UNB was of interest to me when it was time to decide where I wanted to attend university," says Blair.
Krista took a year off after high school. Her three sisters went to university in Nova Scotia. She decided she wanted to leave the province for her post-secondary education but didn't want to stray too far from her home province.
"I had a friend who was taking forestry at UNB, so decided I would follow her to New Brunswick. My parents are both from Saint John, so I was familiar with UNB and its programs."
Blair and Krista were ecstatic when Ethan signed with the UNB Saint John Seawolves men's volleyball program for the 2022-23 varsity season. The icing on the cake for them was that Ethan's first-year tuition would also be paid for.
"The free tuition is definitely a bonus," says Blair. "But it's also awesome for Ethan to get the experience of leaving home while being able to play the sport he loves and completing a bachelor of science degree. We have family in the Saint John area, and Ethan is still close enough to home. Not to mention the benefits of attending a small university. It's the perfect fit for Ethan."
That she and Blair both attended UNB, received a quality education and had a great experience, gave Krista comfort in Ethan's decision to follow in their footsteps.
"It'll be great to have another UNBer in the family."