Terry Malley rewarded for innovation, lifelong learning and giving back to the community
Author: UNB Alumni
Posted on Oct 27, 2022
Category: Management , Arts , Inspiring Stories , UNB Fredericton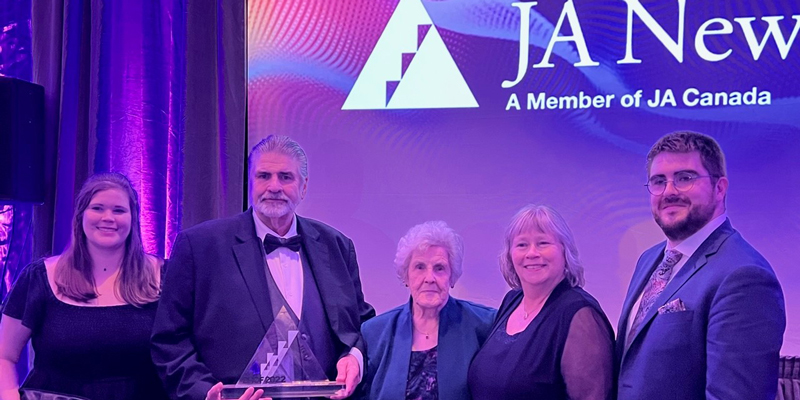 ---
It was a big year for Terry Malley (BA'81) in 1979.
Two years into a business degree at UNB, he and his father, A.J. Malley, decided to start a business together by opening a small manufacturing facility in Moncton to build truck caps, campers and van conversions for the recreational market.
Two weeks before that, he had met Kathy (BEd'79), his soon-to-be-wife, at a dorm party on the Fredericton campus. He walked her home on a snowy night and the two talked business until early morning. It was the beginning of what would be a career and a life of innovation, family, learning and community.
Terry travelled back and forth between Moncton and Fredericton, juggling the fledgling business with his studies. He switched to an Arts degree to have more flexibility in requirements and graduated two years into the family venture. He says he always knew he'd be running his own business.
"Dad was a serial entrepreneur and always instilled in me the joy of running a business and the freedom it gives you. I knew from when I was a kid that's what I would do, so I jumped when the opportunity came to manufacture custom vans. It was a really strong market in the late 70s and early 80s so we jumped on that, but it was a short-lived trend and we soon built our first ambulance in 1984. The business leapt from there."
It certainly did take a big leap.
Malley Industries is now one of North America's largest adaptive mobility manufacturers of ambulances, modified vehicles for persons with disabilities, specialized commercial vehicles and thermos-formed composite products for the automotive, commercial and industrial sectors. The company has earned a reputation as a highly innovative and respected manufacturer, and Terry has been recognized numerous times for his contribution to business and entrepreneurship. In 2014 he was named EY Entrepreneur of the Year in Manufacturing for the Atlantic Region. He was five times named one of Atlantic Canada's Top 50 CEOs by Atlantic Business Magazine and is a member of their Top 50 Hall of Fame. This week, Terry was inducted into the Junior Achievement New Brunswick Business Hall of Fame.
While there have been many changes in the company since 1979, two things have remained constant: the focus on innovation and the involvement of family.
As Terry and A.J. began growing the business, Terry's mother came on board to help, and eventually, so did Kathy. After graduating from UNB she moved to Moncton to begin a teaching career before applying her education differently by starting her own public relations consultancy business providing media relations and editorial services to clients in the manufacturing, transportation, technology and financial sectors. In 1999, Terry's father passed away and with Terry now solely focused on operations, Kathy joined the company full-time to handle communications, marketing and human resources. Kathy says they recognized the need to move to the next level and it involved making tough decisions and big innovative leaps. "We worked well together and have always been very aligned. The business has become more strategic over the years."
As demand for their custom vehicles grew, the company continued innovating their designs and the materials they used. They became a disruptor in the ambulance industry, creating a unique product with vehicle interiors that were lighter weight and ergonomic with state-of-the-art features. They even started a new business, Bodyguard, as a composite plastics division for their vehicle interiors.
Today, the next generation of Malleys has joined the company as well. Son Myles (BBA'10) is the Director of Technology and Innovation and daughter Kayla does graphic design and social media for the business. Myles says his business degree at UNB taught him to see a high-level view of how all parts of the business work together and how to approach problems with critical thinking. "I started out working in every part of the business – in the stock room, accounting, sales and marketing and on the production floor. I love being part of product development and strategy and tackling projects that modernize our processes and information sharing. We're finding ways to do our work more efficiently and improve processes and tools."
Myles has been a key player in helping disrupt the industry once again – by developing an online configuration tool that Malley dealers can use to easily and quickly choose the features customers want. "We've made a fundamental change," Terry says. "We can now still give our customers customized vehicles but with defined parameters so we can maximize our manufacturing output. The new online configuration tool is integrated with all of our systems so it makes the process user-friendly and improves all of the moving parts within our system so we can provide more value, quickly and easily.
Myles mimics his father in stating that being an entrepreneur affords flexibility and a sense of control and freedom he couldn't get working for another company. "I get a lot of satisfaction playing a part in building something impactful and unique."
Over the last 20 years, Terry and Kathy say they've brought together a phenomenal team and a new vision for the company. Today, 60% of the business is exports, primarily to the United States and across Canada, but also globally.
"Business is cyclical," states Terry. "There are tough years – like in 2010 when we were opening a new facility in Dieppe and the economy tanked, and in the past couple of years with global supply chain tensions. But it's also so much fun. We really enjoy what we do and are proud of it. We're making a difference, and it gives us a sense of purpose."
A lifelong learner, Terry reads 100 books a year and continued studying over the years – completing a master's degree in Organization Management from Crandall University and a master's certificate in Project Management through York University. He's also a big believer in playing a role in the community and giving back. He's served on the NBCC Board of Governors, the Atlantic Chamber of Commerce, the Canadian Manufacturers and Exporters, the Canadian Space Agency Board and the New Brunswick Business Council. He also served on the advisory board for UNB's Faculty of Management for 15 years and he and Kathy have volunteered for many years as judges at the faculty's APEX business plan competition. "UNB has been an incubator for many great companies. We love to listen to students with good ideas and help in any way we can."
The company also participates as an experiential learning partner with the Faculty of Management (as well as NBCC and high schools), opening up their facility to allow students a glimpse of real-world problem-solving, process and strategy. "It's important in building future capacity to expose students to good opportunities to stay and work in New Brunswick, and to give them hands-on experience to complement their classroom learning."
"I get a lot of satisfaction out of being community-oriented and staying connected with others in our region. UNB was a big part of all of our lives, and if we can give back in some way, that's wonderful. Working toward a common goal takes effort, but it's very rewarding."