UNBeknownst #22: Emilie Chiasson on creating human-centered designs and solving big challenges through collective action and gender equality
Author: UNB Alumni
Posted on Oct 13, 2022
Category: Inspiring Stories , Podcast , Young Alumni , UNB Fredericton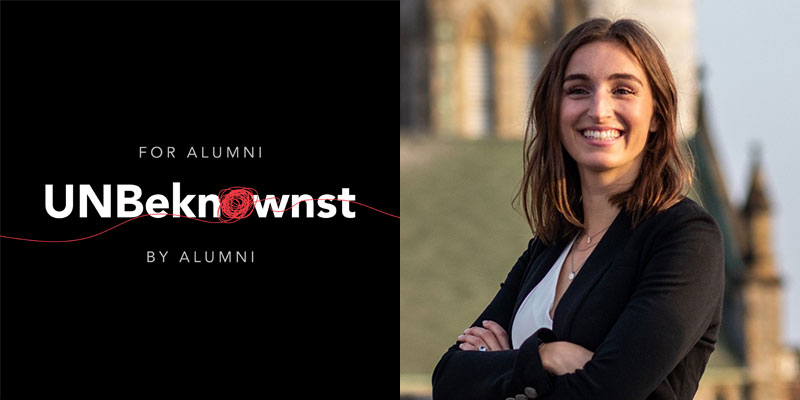 ---
Emilie Chiasson (BPHIL'15) is a design and innovation expert who's worked with government and NGO organizations to co-create meaningful solutions to persistent problems in developing countries and regions. After graduating from UNB's Renaissance College, she completed a Master's in Global Affairs from the University of Toronto's Munk School of Global Affairs & Public Policy, and since then has gained field experience working with vulnerable populations on the traditional unceded territory of the Wəlastəkwiyik (Maliseet) peoples as well as with communities in Africa, Asia and Europe.
Emilie has worked hard to support marginalized groups and bring to light their lived experiences through advocacy and programming and has navigated complex policy and humanitarian issues. She is currently a Social Science & Social Behaviour Change Fellow with Aga Khan Foundation Canada, and I'm catching her working from Kampala, Uganda right now!
In this episode:  
Emilie's non-linear path from UNB to living on five different continents
What human centered design means in the field
Innovative interventions Emilie's been working on
Complex solutions to complex conflicts and problems
Gender education and equality efforts in Uganda – and why it's so important
Prioritizing health and wellness and a social network to maintain momentum
Where to listen: 
Links and resources: 
Thanks to: 
Our alumni host, Katie Davey 
Music by alumni artist, Beats of Burden  
Our alumni Affinity Partners, TD Insurance, Manulife, and MBNA Mastercard  
  
To listen to UNBeknownst and for more info on the podcast, the hosts, and how to subscribe to new episode alerts, visit our  website.