A history of UNB's Alumnae Association and the women who led it
Author: UNB Alumni
Posted on Oct 3, 2022
Category: Inspiring Stories , UNB Saint John , UNB Fredericton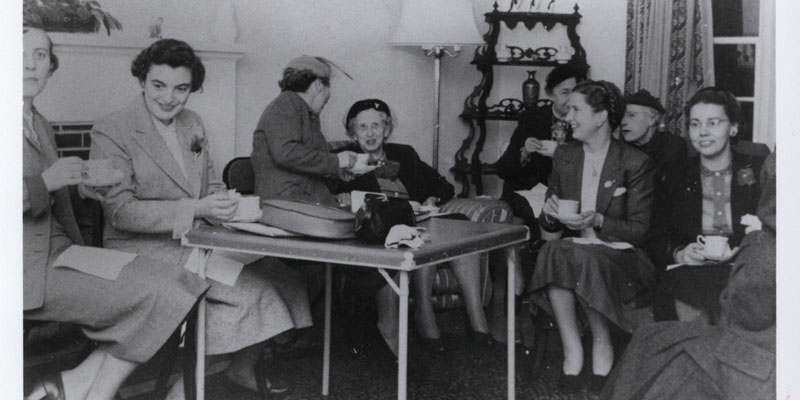 ---
For 112 years, UNB's Alumnae Association has been supporting female graduates and undergraduates at the university. In celebration of women's history month, we are re-telling the story of the Alumnae Association and the women who led it.
This story was re-published from
UNB's 225 celebration story series
.
In 1910, the eight female graduates and 11 undergraduates who met in Fredericton on April 26, 1910, had great seriousness of purpose. Having been ignored, marginalized and/or relegated to cleaning up in the kitchen by the male-dominated Alumni Association, they were intent on forming their own Alumnae Society.
Women had first been admitted to UNB in 1886. None of them was allowed in the Alumni Association until 1896 when five were elected to membership — still too much a minority to have much influence.
But by 1910, there were nearly 200 alumnae, representing about 25 per cent of UNB's graduates, enough to warrant an organization that would "support the educational and financial interests of the University of New Brunswick, especially as such interests relate and are related to the lady graduates and undergraduates of the university."
The society lost no time fulfilling its mandate.
Under the leadership of Annie Tibbits Chestnut (Class of 1896), its inaugural AGM was held that June 19. Charter members were enrolled, and a $30 gold prize was established for women undergraduates. The society grew quickly, spurred on by the women's suffrage movement and reinforced by the important economic role women played in both world wars.
From its earliest days, the society dreamed of opening a women's residence, as propriety prevented out-of-town girls from attending UNB unless they could live with relatives.
The group's chance came in April 1949, when Lord Beaverbrook offered them the house he had recently purchased on the corner of Charlotte and Church streets if they could raise the funds to alter and equip it by December 31.
Determined not to lose this opportunity, Muriel Farris Baird (Class of 1927) led the charge. The society secured a hefty $55,000 from various sources, including Lord Beaverbrook himself, between May and September 1949, finishing three months ahead of schedule.
Funds for the renovations were raised through parties and sales, furnishings were gathered throughout the community and the 21-bed women's residence opened that fall. It was and still is seen as a major milestone for women at UNB.