UNBeknownst Episode 21: Josh O'Kane on Sidewalk Labs and "the city Google couldn't buy" 
Author: UNB Alumni
Posted on Sep 6, 2022
Category: Podcast , UNB Saint John , UNB Fredericton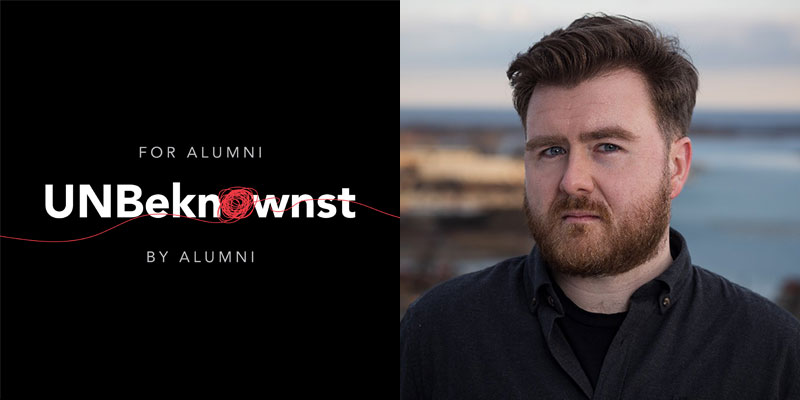 ---
Josh O'Kane (BSc/BA '09) is a reporter with The Globe and Mail who has covered the technology sector for much of the past five years. His coverage focuses on the relationships between tech companies and human beings, governments, economies, and each other. His latest book, Sideways: The City Google Couldn't Buy, investigates the failed effort by Google sister company Sidewalk Labs to build a future-focused neighbourhood in Toronto, the many institutions that company won over, and the consequences of Big Tech's push into the physical world. Josh has extensively reported from Berlin, Halifax, Fredericton and Saint John, and is based in Toronto. He got his start on the UNB campuses – he has a science and arts degree from UNB, wrote for the UNBSJ student paper, The Baron, and was editor of The Brunswickan on the Fredericton campus. 
In this episode:   
The background and inside scoop behind Sidewalk Labs, and the Toronto city of the future that never happened

 

An inside look at the controversy

 

Lessons to be learned: why process and cooperation is hugely important  

 

How Josh was able to build trust to learn the real story

 

Regulating big tech and what Canada could or should be doing

 

Josh's first book on singer/songwriter Joel Plaskett and the "place" connection between his books

 
Where to listen:  
Links and resources:   
Thanks to:   
Our alumni host, Katie Davey 
Music by alumni artist, Beats of Burden  
Our alumni Affinity Partners, TD Insurance, Manulife, and MBNA Mastercard  
  
To listen to UNBeknownst and for more info on the podcast, the hosts, and how to subscribe to new episode alerts, visit our  website.