UNB alumni among Top 50 CEO award winners
Author: UNB Alumni
Posted on May 30, 2022
Category: Inspiring Stories , UNB Saint John , UNB Fredericton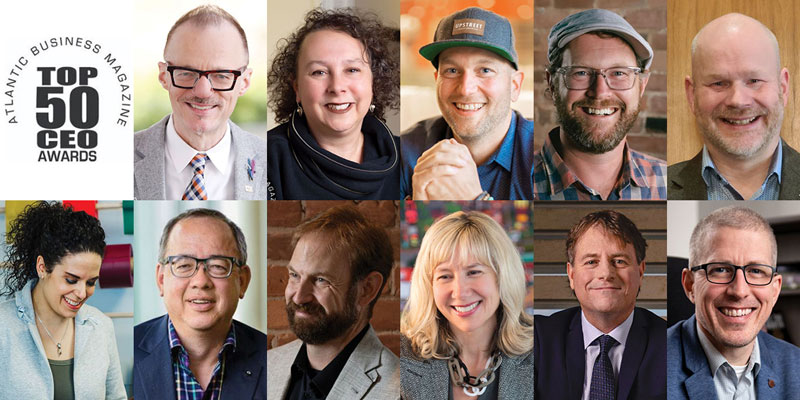 ---
The Atlantic Business Magazine's 2022 Top 50 CEO Awards recently recognized 11 UNB alumni.  
Since 1999, the Top 50 CEO Awards celebrates accomplished business leaders in the Atlantic region. Nominations are submitted by the magazine's readers and nominees are judged according to corporate, community and industry involvement, as well as company growth and response to various managerial challenges. 
This year's list recognizes UNB alumni in New Brunswick, Nova Scotia and Prince Edward Island. 


Dr. Jean-Paul Boudreau (BA'87): President and Vice-Chancellor, Mount Allison University 
First time award winner Dr. Jean-Paul Boudreau, scores A+ for collaborative relationships, new programs & fierce fundraising. 
Sascha Boulet-Devost (BScKin'09): CEO, Capture Theraputics 
In Grand Falls, N.B., Capture Therapeutics is reinventing healthcare one community at a time.  
Lydia Bugden (LLB'91), 2022 Top 50 CEO Hall of Fame inductee: CEO & Managing Partner, Stewart McKelvey 
For Lydia Bugden, CEO and managing partner of Atlantic Canada's largest full-service law firm, durable innovation means answering tough questions and delivering custom solutions to client issues. 
Tanya Chapman (Class of '11, MBA'12): CEO & President, The Chapman Group 
Over the last three years, The Chapman Group has grown 20 per cent annually and dedicates 10 per cent of its time to non-profits. 
Mitch Cobb (BA'02), 2022 Innovator of the Year and 2022 Top 50 CEO Hall of Fame inductee: Co-Founder and CEO, Upstreet Craft Brewing and Libra Non-Alcoholic Craft Beer 
This CEO has transformed Upstreet Brewing from a home brewer's fantasy to a successful national beverage company on the cusp of expanding into the U.S. market. 
Greg Hemmings (Class of '96), 2022 Top 50 CEO Hall of Fame inductee: Founder/Executive Chair, Hemmings House 
The pandemic didn't keep this filmmaker down. In fact, Saint John's Greg Hemmings tooled up and leaned in with game-changing innovations and creations for the future. 
Kevin Kiley (LLB'93): Managing Partner, McInnes Cooper 
Kevin Kiley, managing partner of McInnes Cooper, knows about engaging employees. A 24 per cent rise in net income and 28 per cent increase in partner profits proves it. This is his second ABM Top 50 win. 
Dr. Erik Klein (Class of '97): CEO, Town Health Solutions 
His quality rehabilitative care in rural communities helps reduce illicit prescription drug use in N.B. Game-changing medicine is CEO Dr. Erik F.C. Klein's Town Health Solutions. 
Mark McAllister (BCS'01): CEO, VeroSource Solutions 
Online leader of COVID test results and immunization records and is driving digital healthcare transformation across Canada. 
Dr. Keith McIntosh (DSc'18): CEO and President, Plato Testing 
Founded a year after the Truth and Reconciliation Report, PLATO Testing CEO Keith McIntosh of Fredericton has created jobs for 1,000 Indigenous software testers. Congratulations on your 4th #ABMTop50 win 
Matt Symes (BA/BEd'04): CEO, Symplicity Designs 
First-time winner Matt Symes' Symplicity Designs of Moncton delivered free webinars to more than 1,800 pandemically struck businesses, providing a real design for living through hard times. 
The full list of 2022 Top 50 CEO recipients can be viewed online.