Cormac Stewart combined degrees to bring ideas to life
Author: UNB Alumni
Posted on May 25, 2022
Category: Computer Science , Young Alumni , UNB Fredericton , Inspiring Stories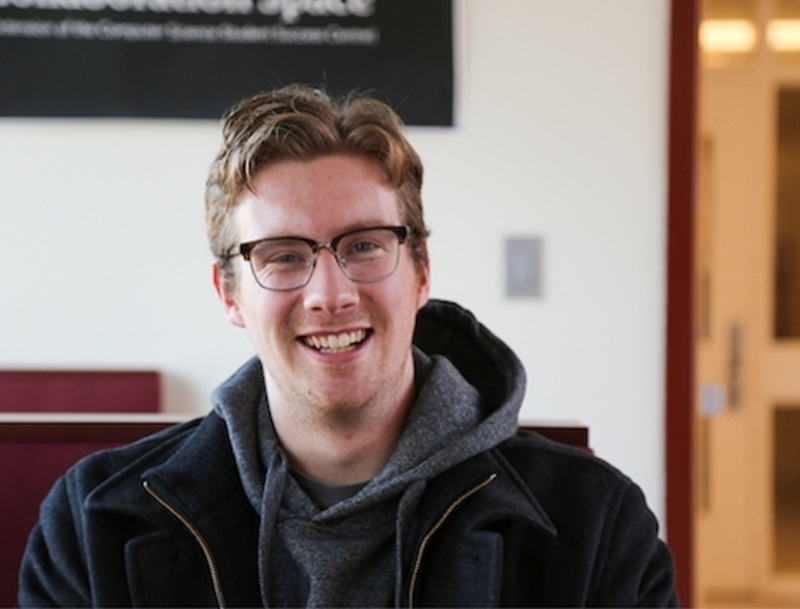 ---
It was Spring of 2020. The COVID-19 pandemic had just turned the world upside down and seven friends who met at UNB had plans cancelled.
One of them was Cormac Stewart (BCS'21, BPHIL'21), who was supposed to be overseas doing an international internship as part of his studies with Renaissance College. Instead, he was home in New Brunswick, ruminating with friends about where to find somewhere to eat and what deals were happening at local restaurants and bars.
In fact, a few of the group of seven had come up with an idea for an app that would help people find local establishments, as part of an engineering project in 2019. When the pandemic began to take its toll on local restaurants and hangouts, Cormac – who was deep into his dual Computer Science and Philosophy/Leadership degrees – and a few others decided they could actually build and launch the app, with the hopes of getting people back out supporting local.
Dinnerbell was born and in Spring of 2021 the app was launched in a beta test to 10 Fredericton restaurants and bars. 
"The pandemic gave us the time we needed to work on developing the app, and then as restrictions loosened and restaurants were trying to get people to come back, we launched it as a trial. We learned so much from having it out there being used and got great feedback from restaurants and users so we could make improvements. We took it offline to make it better, and have now officially launched the new and improved Dinnerbell in Fredericton and Halifax."
Dinnerbell now has 85 restaurants and bars on the app, and it's become an information hub for the local hospitality and entertainment scene. "Small, local restaurants can connect with their audience better than ever before, without having huge resources like the big chain brands do. We'd love it if Dinnerbell could help fill the tables at local diners."
For Cormac, the full-stack developer for the company, creating an app that helps connect others and that brings people together is a dream come true. The CS and Renaissance College grad says he's very social and loves talking with others about society, culture and new ideas.
"I was a big science kid and loved math, but I'm also fascinated with how the world works on a social level. I entered the Science and Computer Science program at UNB, but after taking social sciences electives during second year, decided to also do a Bachelor of Philosophy degree. It was a really great balance of learning and experiences."
Since graduating last year, Cormac has moved to Halifax to work full-time with another interesting startup – Dear Life – a storytelling platform that helps people showcase their memories. He and five of the other co-founders of Dinnerbell are also still working part-time on growing their business, along with full-time jobs. "It's a lot of long evenings and I've had to get good at time management. But I love it and I love working with my close friends. I have so much respect for them and to do business with them at this level is amazing."