Q&A: Reid Sutherland, UNB Alumni Student Leadership recipient
Author: UNB Alumni
Posted on Mar 21, 2022
Category: UNB Fredericton , Science , Inspiring Stories , Young Alumni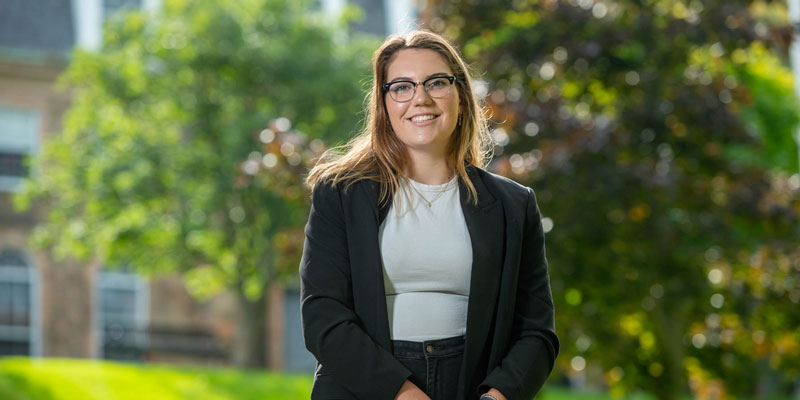 ---
Recipient of a 2021 Alumni Student Leadership Award, UNB Fredericton student Reid Sutherland shares how the award has positively impacted her UNB experience, how she contributes to student life on campus and why she enjoys studying in the faculty of science. Throughout her time on campus, Reid has immersed herself in campus activities, starting as a peer mentor in the Faculty of Science, serving as hall proctor in residence, and participating on UNB's women's rugby team.  In 2018, Reid was part of a leadership group who started the Girls STEM Up initiative at UNB and she shares her love for UNB with prospective students assisting the recruitment office with open houses, campus tours and orientation events. Reid is also a 2021Sir Howard Douglas Scholar. 
What inspired you to enroll in UNB's faculty of science?
I have always been positively obsessed with the sea and everything to do with it, and as climate change continues to affect the ocean in profound ways, my interest began to take on an additional facet through marine biology. Learning about the experiential and research opportunities in the context of marine biology at UNB cemented a Bachelor of Science here as the next step in my academic career, and I have been fortunate to partake in UNBF's "Marine Block" semester as well as compete an Honours Thesis looking at freshwater fish biology. Partnered with Marine Block, my experience conducting research in Miami and Jamaica, as well as field courses in Thailand, have become imperative building blocks for my future career as a marine scientist, and the leadership development opportunities that UNB has offered me have also bolstered my professional and academic futures.
What has been the most rewarding or exciting part of your academic studies?
I have felt an immense amount of fulfillment throughout my time at UNB. From working in a marine research laboratory in Jamaica, to studying coral reefs off the coasts of Thailand, I have been able to develop transferrable research, leadership, and professional skills both here in New Brunswick and literally across the globe. I have held multiple positions in residence leadership, been a part of UNB's phenomenal women's rugby team as both an athlete and a club executive member, and have fostered incredibly meaningful connections through the Science Student Leadership Program as a peer mentor. The most memorable and impactful experiences that I have had here are those that involve meeting new people, bolstering the connections I have already made through UNB, and working with a variety of teams to improve the student experience through initiatives like Girls STEM Up, Reaching Higher, the Residence Leadership Intern Program, and UNB SPRING.
How do you stay involved in student life on campus? 
UNB offers so many extensive opportunities to get involved on campus. From clubs and societies to sports teams on both recreational and competitive levels and residence leadership programming, there is an immense number of possibilities to get involved whether you live on campus or off-campus. Attending events like Corn Boil and the Clubs & Societies Fair are great ways to get introduced to some of these opportunities, and when there doesn't seem to be any existing outlets for what you are passionate about, there are supports in place to help you create one. Personally, I thrive through my campus involvement and being an active member of the UNB community helps me to fuel my academic, professional, and personal passions. I love to get involved in new and emerging initiatives at UNB, try new things that I have no previous experience with, and volunteer with student-led groups that are committed to improving the student experience as well as playing rugby and intramural volleyball, chairing conferences and attending them, and writing for the Atlantic Student Research Journal UNB Chapter.
What do you enjoy most about being involved in student life on campus?
Passionate, driven, and generous individuals like the BlackShirts, my fellow peer mentors, and my rugby team has helped shaped me into the person that I am today, which is very different than the person I was when I moved into Harrison House in the summer of 2017.  Through my involvement in campus initiatives, I have made so, so many incredible friendships that I will continue to cherish long after I graduate, and I feel so fortunate to spend every day in awe of the accomplishments, kindness, and inspiration that my friends, teammates, and colleagues constantly achieve. I am beyond proud of all of the friends, mentors, and teammates that I have been lucky enough to connect with thus far, and I am so grateful for the professional relationships that I have been able to craft with UNB faculty and staff through my campus involvement as well. The sense of family and community that comes with being involved at UNB is by far what makes being involved here so very special.
Can you share one of your fondest or most memorable moments at UNB thus far?
There are so many incredible snapshots of my time here that will stay with me forever—winning Blast Off and then O-Cup with Neill House, being a part of the incredible 2021-2022 BlackShirt team, winning five consecutive championships with UNB Women's Rugby, and so, so many more. I think that a pivotal moment that really defined my five years at UNB comes from rugby training camp during 2017 before my first year of classes had even started. It was after an evening skills session and the head coach of the UNB Women's Rugby team, Kevin Wilson, had noticed that I was being particularly hard on myself. He told me that if rugby was easy, everyone would play it and that there would be moments where I have to decide if I want to concede to self-doubt and deprecation or if I want to square my shoulders and play on. In a lot of ways and contexts, I have revisited that advice; after long nights on duty as a proctor, when studying for some of my hardest courses, and now, applying to master's programs and graduate studies. There have been many times these last five years where I have had to make that choice and there will continue to be for the rest of my life, and each time I have to decide, I will remember what Coach K said and how it feels to have a team behind you, supporting you every time you breakaway and reach for a new success.
How has receiving the Alumni Student Leadership Award positively impacted your UNB experience?
Receiving the Alumni Student Leadership Award is a huge positive influence on my student experience. The financial component allows me to focus on my academic and professional development as well as campus involvement rather than covering the costs of attending university, and the award, itself, has introduced me to the other incredible recipients. I am truly honored to have been selected to be given an Alumni Student Leadership Award and become a part of the community of previous recipients, and I look forward to watching the legacy of the award continue to unfold through the efforts of future recipients.
What makes you Proudly UNB?
So many things make me Proudly UNB—I think it's a mindset that reflects in how we live our lives. Through overcoming setbacks and adversity, persevering through difficulty, striving for development and growth with grace and purpose, and moving through all that we do with respect and a positive attitude, I think "Proudly UNB" is a mentality that I will continue to try and carry with me every day until and beyond graduating from UNB and moving on to my next chapter.
What are your future plans once you've completed your undergraduate degree?
My future plans when I complete my concurrent undergraduate degrees include a Master of Science in marine biology and eventually, a doctorate degree, as well. I hope to continue my work with shark science and possibly collaborate with the Department of Fisheries and Oceans Canada, OCEARCH, or the Canadian Coast Guard. I am also deeply grateful to be a finalist for the McCall MacBain Scholarship offered from McGill University, and I will be travelling to Montreal in March for my last interview.
How do you hope to stay connected to UNB in the future as an alumna?
I hope to stay connected to UNB in the future through trying to maintain my "Proudly UNB" mentality and attending alumni events. I also have so many friendships that have been built through my involvement here at UNB that I will be actively following rugby, Girls STEM Up and Reaching Higher, the Atlantic Student Research Journal, and so many more wonderful initiatives and people even after I graduate. The best part about becoming a member of the UNB community is definitely that even after graduation, I will still be a part of it. So much of who I am and what I do is thanks to the teams, mentors, coaches, friends, and professors that I have had while I am here and that is something I will never forget. I hope to make a lasting impact on the UNB community similar to that one that has been made on me, and a part of that is staying connected to UNB throughout my future.  
Watch Reid's UNB Alumni takeover on Instagram.
Learn more about the Alumni Student Leadership Award.