UNB Associated Alumni celebrates the UNB Saint John 2022 Graduating Student Leaders
Author: UNB Alumni
Posted on Mar 22, 2022
Category: UNB Saint John , Inspiring Stories , Young Alumni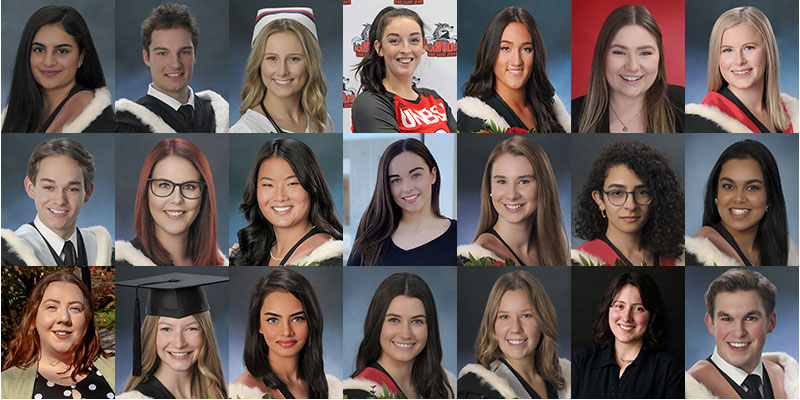 ---
Twenty one graduating students from the UNB Saint John campus have earned 2022 Graduating Student Leadership awards for the remarkable initiative they've taken during their time at UNB.
The award recognizes students in their final year of studies who have made outstanding voluntary and extracurricular contributions to the campus, their academic program, and the university community. 
The Associated Alumni, in partnership with UNB Saint John Student Services and the UNB-SRC, will virtually celebrate graduating students from the class of 2022 on March 31 at 6 p.m. (ADT). The event will be available to watch on the UNB Young Alumni Facebook page. These students have demonstrated extraordinary committment and leadership within their academic program, to initiatives on campus and to UNB Saint John as a whole.
Congratulations to our 2022 UNB Saint John Graduating Student Leaders: Zainab Ali, Simon Anctil, Julia Bennett, Abigail Bernard, Allee Bezeau, Charlotte Fanjoy, Madison Glenn, Joshua Goguen, Katie Herrington, Charlotte Knappe, Ashley MacLean, Lauren McKinley, Delaram Mirshamsi, Niomi Monteiro, Ashlee Morrell, Kathryn Nason, Ria Sabitry, Kaitlyn Sears, Sophie Sharp, Mila Veljanovska, and Benjamin Wilson. Read more about our 2022 recipients.
Created by the UNB Associated Alumni, the Graduating Student Leadership awards program celebrates its 17th anniversary this year. More than 350 alumni have been recognized as a Graduating Student Leader since 2005.