Caitlin Doyle (BScKin'11) is supporting chronic health in the community
Author: UNB Alumni
Posted on Mar 29, 2022
Category: Inspiring Stories , Kinesiology , UNB Fredericton , Young Alumni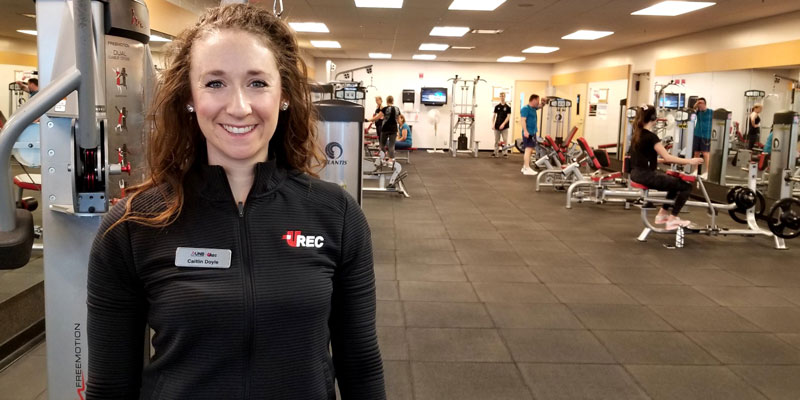 ---
UNB alumna Caitlin Doyle (BScKin'11) didn't stray far after graduating from UNB's Faculty of Kinesiology in 2011. As the Recreation Services' (URec) Clinical Exercise Physiologist on our Fredericton campus, Doyle supports individuals with chronic health conditions in her community, while also collaborating with the faculty that impacted her career.
In addition to performing occupational assessments, Doyle is responsible for running URec's silver series and special population programs. Often targeted to seniors and those with chronic health conditions, these programs are a staple for URec's fitness and wellness unit. Offering programs for specific chronic diseases like Parkinson's Disease, osteoporosis and post-cardiac rehab, Doyle and the URec team are also currently working to expand their services for other conditions like cancer and pulmonary rehab.
"We are trying to be quite strategic in terms of what we offer and are also working to be a health and wellness hub for the community with the healthcare system referring more patients to our programs," explains Doyle. "We know when we look at the city and surrounding areas that our biggest area of need is to support individuals with chronic health conditions."
These programs are collaboratively run by Doyle, fellow instructors, and UNB kinesiology students and are held in small, class formats, while still supporting each client's needs through individual pre and post testing. Services like their successful five-year diabetes program funded by Sun Life, and their ever-popular Body and Bones classes for osteoporosis and osteoarthritis, have really set their services apart from other gyms in the community.
"What we've noticed, and what we've heard anecdotally, is people really love the social aspect of coming in and working out as a group; they thrive on the social experience," says Doyle.
"It's amazing working with people and seeing their goals come to life. Hearing stories of people feeling more independent and feeling like they have some sort of control over their health by coming here is truly rewarding."
Growing up in small communities in Nova Scotia and New Brunswick, Doyle was actively involved in sports from a very young age and always knew she wanted to work in the fitness and wellness space. She says being active herself and truly believing in the benefits of physical exercise fuels her passion.
After graduating with a Bachelor of Science in Kinesiology degree at UNB, where she played intramural sports and was on the REDS cross-country team, Doyle took a one-year certification and volunteered with the faculty's Take Heart Program supporting people with chronic illness. It was here that she discovered exactly what she wants to do with her career.
Doyle joined the Urec team in 2013 as a personal trainer, later taking on the role of Strength Centre and Training Coordinator, and since then has taken several specializations and certifications in chronic health. Now in her role as Clinical Exercise Physiologist, she says working with faculty members, collaborating with students and using gold standard technologies in the new Kinesiology Building has been incredibly rewarding.
"It's great to collaborate on initiatives with the professors I learned from and to have shared experiences with the kinesiology students who work for us as volunteers or employees. I feel really fortunate to be able to stay and work in the kin department, to see how much it has progressed throughout my time here and to give back to the place that I learned so much from."