WeAreUNB: Q&A with alumnus Reg Woods (BSF'03)
Author: UNB Alumni
Posted on Feb 23, 2022
Category: UNB Fredericton , Inspiring Stories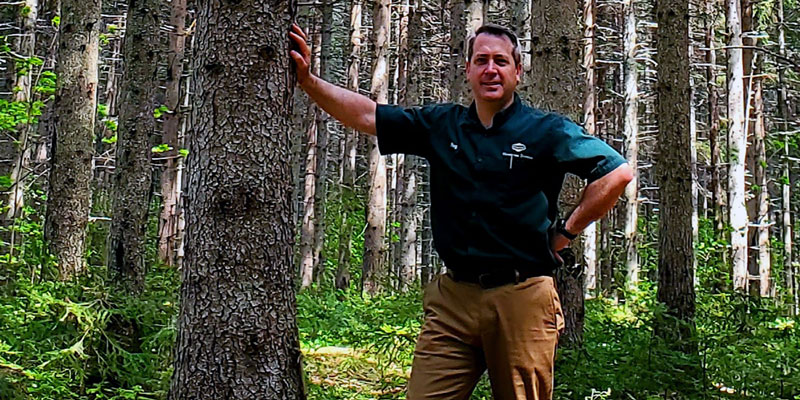 ---
Why did you decide to study forestry?
It was an easy decision because I grew up with it. My father was a forester from UNB, and we spent every waking hour we could in the woods, whether it was tagging along with him at work or working on the weekend in our private woodlots. It was a natural extension of what I loved to do from a very young age. That really drove home where I wanted to end up. I guess you could say it was in the genes.
If you could give incoming students one piece of advice, what would it be?
Be curious.  Explore what's around you and challenge yourself daily to learn.  Whether it's a new subject, a new culture, and different point of view, soak it all in while you are there.
What did you love most about UNB?
The people.  I met some fantastic people during my 5 years on campus and developed lifelong friendships which to this day are still critical personally and professionally.  I met my future wife while at UNB, who was also studying Forestry at the time.
What were some of your biggest hopes for your degree while you were studying at UNB?
That I could continue in my father's footsteps managing some of the best forests in Canada sustainably.  Both my brother and I have carried on in the industry and it's great to think that over the span of 50 years one family member or another has worked to sustain our forest resource for generations to come.
What do you like most about what your degree has allowed you to do?
The opportunities are really endless.  Many of my colleagues ended up all over the globe in a wide range of businesses.  This degree really set the stage for life long learning, and in the past 18 years I've been able to push myself to grow professionally quite literally daily.  I also like the fact that it allows me to put the best science and knowledge we have into practice as decisions Foresters make today really won't be realized until at least 40 to 50 years in the future.  We have an obligation to think strongly about how we manage all aspects of the land today because of this. 
What do you enjoy most about working at JDI?
New Brunswick is home.  At JDI the career paths are limitless and in my 18 years I've had so many great roles and challenges and have worked with so many passionate professionals.  JDI has allowed to me to carry on my family tradition of practicing forestry much the way they have for 139 years by managing NB's Forests sustainably for the future.  Being able to go to UNB and take forestry, work for one of the most progressive forest products companies in the world and raise my three daughters while doing it, is amazing.
Find more #WeAreUNB spotlights on the Discover UNB Instagram account.