Deep learning at Amazon
Author: Deep learning at Amazon
Posted on Feb 9, 2022
Category: Inspiring Stories , Computer Science , UNB Fredericton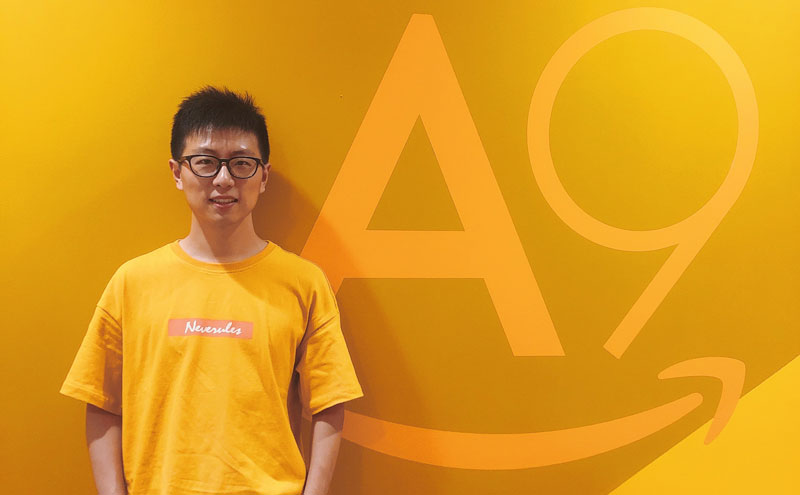 ---
You probably don't always think about all the work that goes on behind the scenes when you're searching for that must-have book, latest gadget or feel-good movie on Amazon.
Weiqi Zhang (MCS'13) does.
Since 2015, Weiqi's been one of the software developers and managers behind the fancy technologies that bring the right products in front of your eyes at the right time. He worked on search technologies and customer experience for six years - first in China, then in Seattle and finally in San Francisco – and moved in 2021 to lead a team working on deep learning technologies across all Amazon applications.
Weiqi came to UNB in 2010 to study in the Master of Computer Science program, after graduating with an undergraduate degree in electrical engineering in Beijing. His interest in programming led to his graduate research in IoT exploring IPv6 in mobile wireless sensor networks. Post-degree, he worked at Teledyne Caris in Fredericton for two years before returning to China and signing on with global giant, Amazon.
Having been in California for a few years now, Weiqi says he likes the climate, but likes his work even more. He's currently leading a team to build a large-scale system based on deep-learning technologies. "We're creating solutions for how customers can run models in their application system. It's fascinating work."
"Deep learning is like an art, even more than a science. It's cutting edge and very challenging, and we're working on complex systems and hard problems. It's very exciting."
He also says that now that he's managing people, it's been a mindset shift from being an individual contributor to thinking like a leader. "It's been a transition for me, because it's no longer just about the technical skills but also about program management, long-term direction and solutions for teammates. I've been learning as a go."
Weiqi says his work has been a very rewarding experience, and he feels like he's achieved something incredible at the end of each week. His advice for others who are still studying: "spend more time in the lab. If you really want to achieve something special, conquer the skills. It will save you time in the future." Spend more time sharpening your skills at school for your career, otherwise you need more effort to make up for it in the future."