Ryan Bennett (BSc'08) provides healthcare to New Brunswickers as Physician Assistant
Author: UNB Alumni
Posted on Jan 25, 2022
Category: UNB Saint John , Inspiring Stories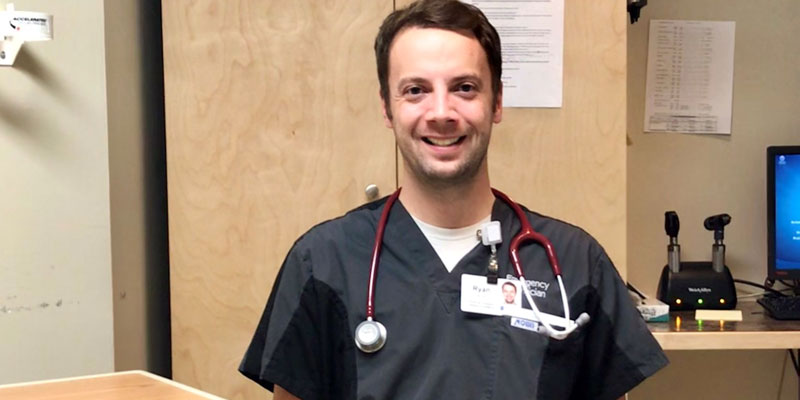 ---
When Ryan Bennett (BSc'08) walks through the doors of the emergency department at the Dr. Everett Chalmers Regional Hospital in Fredericton, he knows he's fulfilling his dream of caring for others. As one of only two civilian Physician Assistants (PAs) practicing in New Brunswick, Bennett can treat anything in the run of a shift from a sore throat to broken bones, or serious trauma if called upon.
Bennett attended the University of Manitoba's Master of Physician Assistant Studies program in 2012 to become a PA, a career in medicine that is not as well known in this province.
A PA is one of two types of advanced practice clinicians, the other being a nurse practitioner. While similar, a PA is trained in the medical school model of patient care similar to a physician, with a scope of practice and skill set mirroring that of the physicians they work with and the specialty they work in.  While not an independent practitioner, PAs are autonomous and work to augment physician care and do not require on site or direct physician supervision.
In his role, Bennett orders tests and imaging, and then works to diagnose, treat, prescribe and either discharge or admit patients, after which the physician also adds their signature to his chart.
"The name is a bit of a misnomer," says Bennett. "I heard of the profession through a family friend who is a physician, and I first thought I would be doing paperwork or getting coffees. When I started researching the field, I was quite surprised that it's nothing like I thought it would be. We can really do up to 75-80 per cent of what a physician does."
Bennett explains how valuable the role of a physician assistant is to the healthcare system, by increasing patient access to care, decreasing hospital wait times and saving money on healthcare. Though there are only a handful practicing out of the emergency department in Fredericton, there are hundreds of PAs helping to alleviate the health care system in other provinces across the country and thousands practicing around the world.
"A family physician with their own practice for example can take on approximately an additional 1000 patients by having a PA."
At the onset of the COVID-19 pandemic, Bennett and his fellow PAs were faced with the significant challenges of treating patients in a makeshift isolation unit, a small sectioned-off area of the emergency department's former waiting room. Now two years into the pandemic, Bennett says  healthcare workers simply eat, breathe and sleep COVID.
"You can't get away from it," says Bennett. "Every day you're dressed in gowns, glasses and masks. You don't know if you've been exposed to someone. You never know when you're at work if someone you're treating has it. And mentally it wears on you because you think about it all the time."
Despite the significant obstacles that have come his way in an already highly skilled and challenging role, Bennett smiles when he explains the true rewards of his career in medicine, one he's known he wanted to pursue in some form since adolescence.
"It has always been about the people, for me," he says. "I guess I'm one of the lucky ones to get to do what I love."
While a student in the Faculty of Science at UNB Saint John, Bennett became deeply involved as a leader in the residence community and upon graduating took on a full-time job as the residence life coordinator. He says he thinks of this role as a steppingstone to his current career, where he experienced working in what he calls "the opposite side of medicine" by helping students navigate their mental health.
Still very much a leader in his profession and in the community, Bennett continues to volunteer when asked as a PA providing onsite medical support to students athletes at the UNB REDS men's hockey games. Bennett attributes his experiences at UNB as a student, volunteer and employee to helping him gain confidence in himself and his opinions.
When asked what advice he would give to students or fellow alumni interested in pursuing a career in medicine, he says it "comes down to believing in yourself."
"There are so many different ways to practice medicine besides becoming a physician. Don't let the process scare you, just go for it."