UNBeknownst Podcast Episode 10: Jason Stephen on the hot real estate market and working through uncertainty
Author: UNB Alumni
Posted on Jan 6, 2022
Category: Podcast , UNB Saint John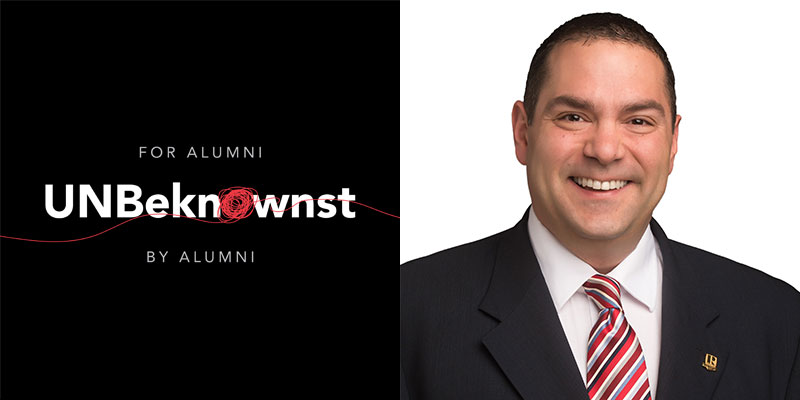 ---
UNBeknownst Episode 10 
Jason Stephen on the hot real estate market and working through uncertainty 
Jason Stephen graduated from UNB Saint John in 1998 with a degree in history and political science, and is now a realtor and real estate expert. Jason is a REALTOR® with Royal LePage Atlantic, has been involved in organized real estate for more than 20 years and just recently concluded his time as president of the Canadian Real Estate Association. Born and raised in Saint John, Jason is actively involved in his community as a leader, volunteer, and supporter. He's been a member of, and has chaired, numerous Canadian Real Estate Association committees, and is also a professional fan of the New England Patriots, the Montreal Canadiens, Toronto Blue Jays and Toronto Raptors.  
In this episode:  
How attending a small university had a lot to offer and encouraged Jason's community involvement, spirit, and sense of belonging.

 

Serving as the president of the Canadian Real Estate Association and how he has developed a deep involvement with the community through volunteer work 

 

Jason's insights into the current hot real estate market in Canada and its volatility

 

How there has been population growth in Saint John and how the hybrid system of the world due to the pandemic may have been a contributor. 

 

Why Jason feels giving back to the community is important to help others along the way

 
Jason's career advice for planning, having a road map to achieve work goals and networking with others to help close a deal

 
Where to listen: 
Links and resources:  
Jason Stephen real estate: http://jasonstephen.ca/  
UNB Saint John Faculty of Arts: https://www.unb.ca/saintjohn/arts/  
Thanks to:  
Our alumni host, Emily Barner  
Music by alumni artist, Beats of Burden 
Our alumni Affinity Partners, TD Insurance, Manulife, and MBNA Mastercard 
 
 
To listen to UNBeknownst and for more info on the podcast, the hosts and how to subscribe to be alerted to new episodes, visit our website.