Kinesiology alumnus part of recovery crew for returning astronauts
Author: UNB
Posted on Jan 13, 2022
Category: Inspiring Stories , UNB Fredericton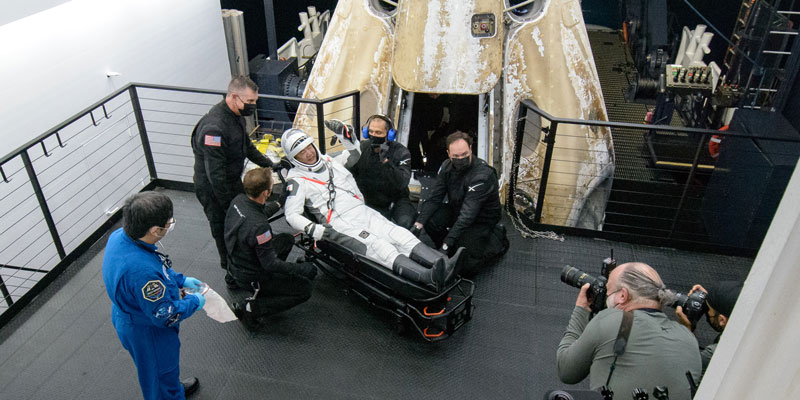 ---
When a student graduates from UNB, the world is truly in the palm of their hands. Where a UNB grad may end up can stretch far across the globe and out of this world. 
This is the case for kinesiology alumnus, Mike Harrison (BScKin'02, MSESS'05), who had the opportunity to be part of the SpaceX recovery team monitoring the physical health of four astronauts once they landed back on earth and stepped out of their space capsule for the first time after a five-month long space mission.
The Dragon
Mike is a flight surgeon and an emergency medicine and critical care physician at the Mayo Clinic in Jacksonville, Florida. Mike was one of the flight surgeons for SpaceX's Crew-1 Dragon launch on Nov. 15, 2020, and landing on May 2, 2021. The Dragon is a four-passenger private space carrier created to send humans to space.
Kinesiology in action
Flight surgeons mitigate and manage risk to optimize operational safety and chances of a successful and safe flight for the passengers onboard.
Mike graduated with a bachelor of science in kinesiology from the University of New Brunswick in 2002 and returned for his masters of science in exercise and sport science which he graduated with in 2005.
As a flight surgeon, Mike cares for individuals in unique environments associated with flight and looks after healthy physiology in abnormal environments. The type of care astronauts require differs depending on aircraft and environment.
Environmental abnormalities may include exposure to high or low gravitational forces, high or low air pressure conditions, high levels of carbon dioxide, vibration, noise, high or low temperature, poisonous and toxic substances, mental stress, and more.
Reflecting back to UNB
UNB's faculty of kinesiology is designed to help past and future students reach their full potential in health sciences and contribute to healthy communities and healthy lives. With one-of-a-kind programs, UNB kinesiology balances theory with hands-on experience in world-class research facilities.
For more information on the faculty of kinesiology and program options, visit UNB Kinesiology.