NB Chiropractors Association recognizes UNB young alumna
Author: UNB Alumni
Posted on Nov 24, 2020
Category: Young Alumni , Kinesiology , Inspiring Stories , UNB Fredericton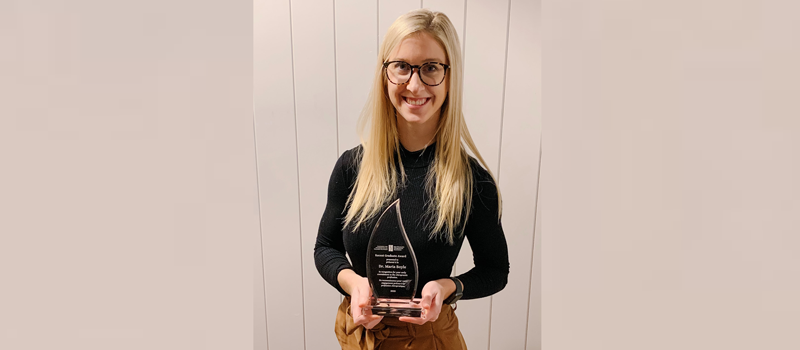 ---
This month, UNB young alumna Dr. Maria Boyle (BScKin'16) was recognized by the NB Chiropractors Association with the Recent Graduate Award. This award recognizes the tremendous contributions of a recent graduate under five years, who has demonstrated success transitioning from school into practice, as well as a commitment and dedication to advancing the profession or their community.
"I was shocked and honoured to get recognized this early in my career," says Dr. Boyle. "When I first started practicing back in 2018 I knew that I had to work hard to get my name out, so it was nice to see that what I am doing in the community is not going unnoticed."
A chiropractor at Town Health Solutions in Saint John, N.B., Dr. Boyle has been very engaged in her community and in the profession since joining the NBCA in 2018. She currently serves on the NBCA external affairs committee, and maintains a prominent and active social media presence promoting self-management and health.
During her time at UNB, Dr. Boyle served as a member of the Kin Society, volunteered with Kin Kids and was a member of UNB women's rugby team. Looking back on her UNB experience, she credits much of her success and passion for her career to the Kinesiology program and her involvement in student life on campus.
"The Kinesiology program was absolutely incredible. It was during my first and second year of my BScKin that I really took an interest in anatomy, functional anatomy and human physiology and knew I wanted to find a career that I would be able to bring all the courses together to help people move better.  I knew that marks were important, but volunteering, networking and getting out in the community had a huge impact on my career today."