Volunteer spotlight: Jennifer Forbes (BBA'12)
Author: UNB Alumni
Posted on Nov 25, 2020
Category: UNB Saint John , Young Alumni , Inspiring Stories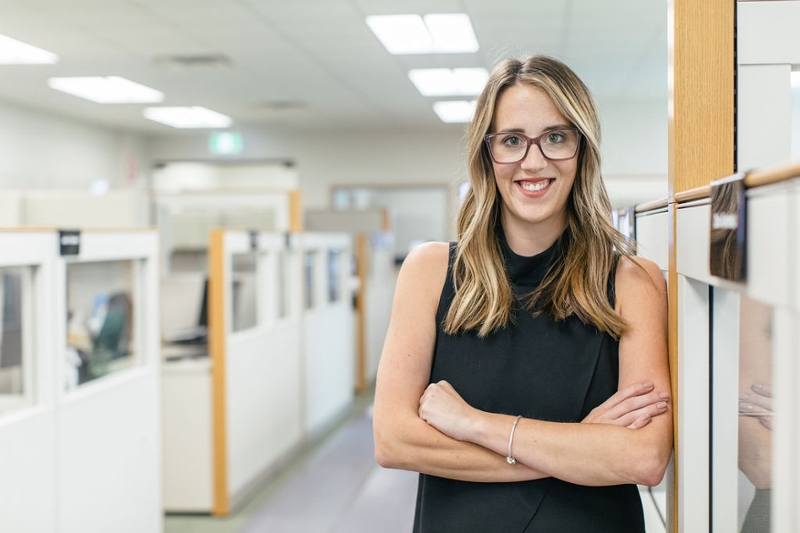 ---
Among the 28 mentors who joined us this month on Zoom, for our annual Career Talks student alumni networking event, was UNB young alumna Jennifer Forbes (BBA'12). A remarkable alumna volunteer, Forbes leaves a lasting impact on students having volunteered much of her time and talent to supporting the next generation of alumni over the last number of years.
Since her own time as a UNB Saint John business student, Forbes has strived to live by a 'say yes' mentality by giving back her time to supporting others on campus and in the community. A Quispamsis native, she came to UNB Saint John as a local student, but had the unique experience of living in residence for her third year. During this time, she made lifelong friends, got involved in Alumni Office activities and embraced every opportunity to participate in student life initiatives.
It's this mindset that she now hopes to pass along to students. In the short time since her own graduation from UNB, Forbes has been a returning Career Talks volunteer and is often invited to speak in front of classes, where she encourages students to take advantage of opportunities to network and get involved. 
"It's so important to me to connect with young people and maybe it's because I once beat myself up for not being more involved," she says. "Anytime an opportunity to talk to students and share my point of view comes up, I think it's very important to take it all in."
Forbes says that participating in events like Career Talks not only allows her to share career advice and knowledge with students, but this year's online event format was also a positive personal learning experience. Volunteering and engaging with students helps to improve her own networking skills, which she uses in her role as an HR business partner in the transportation and logistics division of J.D. Irving Ltd.
An avid volunteer, Jen has also been heavily involved in community activities with Heart and Stroke NB, and has served on the organizing committee for the Area 506 Festival since its inception in 2015.
"I always have time for people. I think volunteering and getting involved is what makes our communities better. I know how hard it can be for local businesses and it's so important to give back to the community, especially now. The most important thing to me is putting in my time."