Q&A: Hanna Grossman, UNB Alumni Student Leadership Recipient
Author: UNBSJ student, Hanna Grossman
Posted on Nov 24, 2020
Category: Inspiring Stories , Young Alumni , UNB Saint John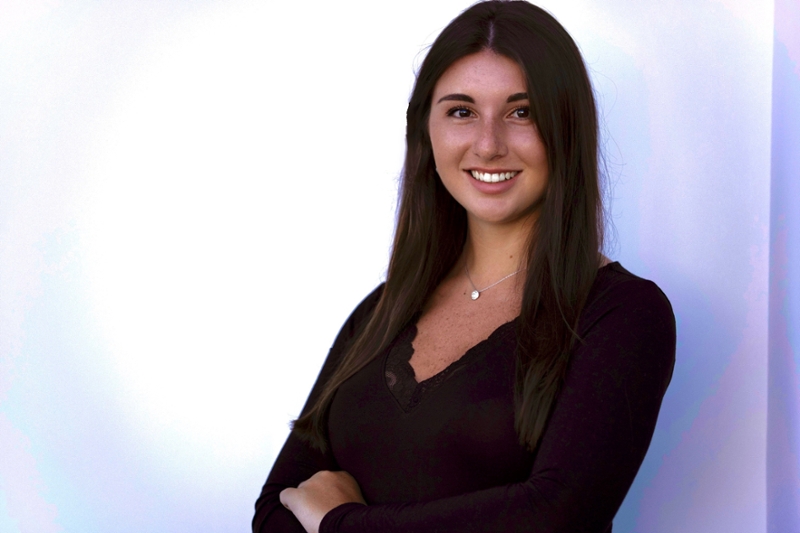 ---
Recipient of a 2020 Alumni Student Leadership Award, UNB Saint John student Hanna Grossman shares how the award has positively impacted her UNB experience and how she contributes to student life amid the COVID-19 pandemic. Throughout her time on campus, Hanna has been a proud member of the Seawolves women's basketball team, a tutor with the Promise Partnership, as well as president of the Student Athletic Advisory Council. 
What inspired or influenced you to enroll in UNB Saint John's biology-psychology program?
Throughout high school, biology and psychology were two of my favourite courses. It wasn't until midway through my grade 12 year that I learned about UNB's biology-psychology program. When I was contacted about the opportunity to continue playing basketball and to study two subjects that I am passionate about, I jumped at the opportunity.  
What do you enjoy most about being a member of the Seawolves women's basketball team?
My favourite part about being a member of the Seawolves women's basketball team are the friendships I have built while playing the sport I love. Playing a varsity sport has helped me stay active, while playing at a high level of competition and creating lifelong friendships along the way.
As a student-athlete, how are you staying involved in athletics and staying fit this semester without a season?
Due to COVID-19, the fall portion of our competitive season has been cancelled. Currently, we are awaiting news to tell us whether we will have a season in Winter 2021. In the meantime, my teammates and I have been practicing in the gym three times a week (while following the school's COVID-19 protocols), with additional workouts on our own outside of practice time. Normally, most athletes would be utilizing the weight room, however, that has not been available this semester. Instead my roommates and I have been doing workouts in our apartment, as well as taking advantage of Saint John's various trails, especially Rockwood Park.
How do you stay involved in student life on campus? 
It has been a difficult year for student life on campus as everyone has had to work to adjust to the new normal, due to the pandemic. I am currently the president of the Student Athletic Advisory Council, where I have been working with the other members to try and come up with safe events to keep the student athletes engaged. Additionally, I volunteer as a simulated patient at Dalhousie Medicine New Brunswick and as a tutor for Promise Partnership.
Can you share one of your fondest or most memorable moments at UNB thus far?
One of my most memorable moments during my time at UNB would be during our basketball pre-season a few years ago. After one of our games in Maine, our bus broke down. We passed the time playing games in the gym with both the women's and men's teams and then had pizza afterwards before finally being able to head back to Saint John. It was a memorable team-bonding experience.
How has receiving the Alumni Student Leadership Award positively impacted your UNB experience?
The Alumni Student Leadership Award has positively impacted my UNB experience by alleviating some of my financial stress, which makes it easier to focus on school and my extra-curricular/volunteer opportunities. Also, this award gave me the opportunity to connect with various UNB alumni, which was very valuable. I am honored and humbled to be recognized for this award.
What makes you Proudly UNB?
Not only am I Proudly UNB because of the education I have received throughout my degree, but I am also proud to have been a part of various valuable extracurricular activities and grateful for the life-long friends I have made. It is for these reasons I am incredibly thankful for my time at UNB and proud to soon be a UNB alumna.
What are you looking forward to in the future after you've completed undergraduate degree?
I am looking forward to continuing my relationships with the people I have met during my undergraduate degree, as well as having the opportunity to start the next chapter of my life.
How do you think you'll stay connected to UNB in the future as an alumna?
As an alumna, I hope to stay connected to UNB by supporting the athletic program and being involved with the school in any way I can. I hope to be able to give back to the school that has given me so much.
Watch Hanna's UNB Alumni takeover on Instagram.
Learn more about the Alumni Student Leadership Award.