Renaissance College alumna advocating for post-secondary students amid COVID-19 pandemic
Author: UNB Alumni
Posted on Sep 23, 2020
Category: Inspiring Stories , UNB Fredericton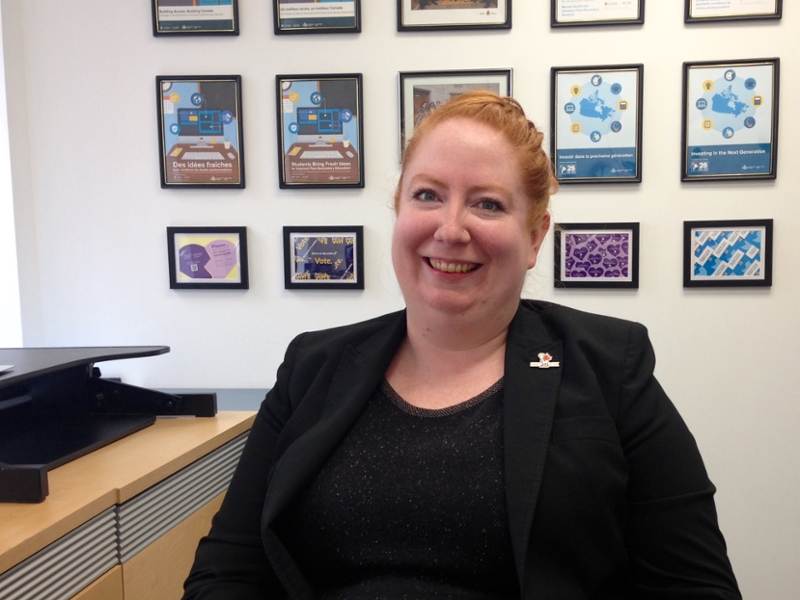 ---
UNB alumna Kalin McCluskey (BPhil'07) discovered her love for public policy through her education at Renaissance College. Since now working in the post-secondary space as Executive Director of the Canadian Alliance of Student Associations (CASA) in Ottawa, she has applied the learning outcomes studied in the program to help her adapt as the COVID-19 pandemic drastically shifted the way they work to support students.
CASA is a non-partisan, not-for-profit organization composed of student associations across Canada. As the organization's Executive Director, a role she began in December of 2019, McCluskey advocates federally for affordability, accessibility, innovation and high quality education for post-secondary students.
"I actually remember CASA from my first year at RC. I remember the VP advocacy at the time coming to talk to us, so when this opportunity came up it was really full circle for me," says McCluskey.
After completing a week of meetings with over 140 parliamentarians and stakeholders last winter just prior to the outbreak, the sudden impact of COVID-19 in Canada presented new obstacles for not only moving their work to a digital space, but more importantly advocating for a different realm of student issues.
"All of a sudden for us we're confronted with this whole new challenge. The parameters have shifted drastically and we're talking very specifically about students who need groceries, students who need rent, international students who are here, and we need to make sure they make it through the pandemic safely. The big thing was determining how we reach people knowing that everybody's world has been flipped upside down."
In collaboration with various partners, McCluskey and her team lobbied digitally for the student loan moratorium, the Canada emergency student benefit, digital infrastructure for students, changes to student loans, all while working to support the new group of students becoming delegates and leaders amid a pandemic.
Through her studies in the Renaissance College program, the proud UNB alumna says she learned to approach decisions with an intersectional lens. It has been the creative and adaptive approach to problem solving that has helped her to navigate new challenges, as well as to communicate decisions effectively.
As she now represents students across Canada and from her very own alma mater, McCluskey reflects on her time as a member of the fifth cohort of Renaissance College graduates.
 "Last year when I started this role the UNB Student Union president and vice-president were also soon-to-be RC grads, so it's been exciting to see what's still there at its core, but also what is evolving and shifting. The idea that we're now talking about the 20th anniversary of something that people who I admire and respect created and made into this special thing is pretty remarkable."