Recognizing the 2020 UNB Saint John Graduating Student Leaders
Author: UNB Alumni
Posted on Jun 30, 2020
Category: UNB Saint John , Inspiring Stories , Young Alumni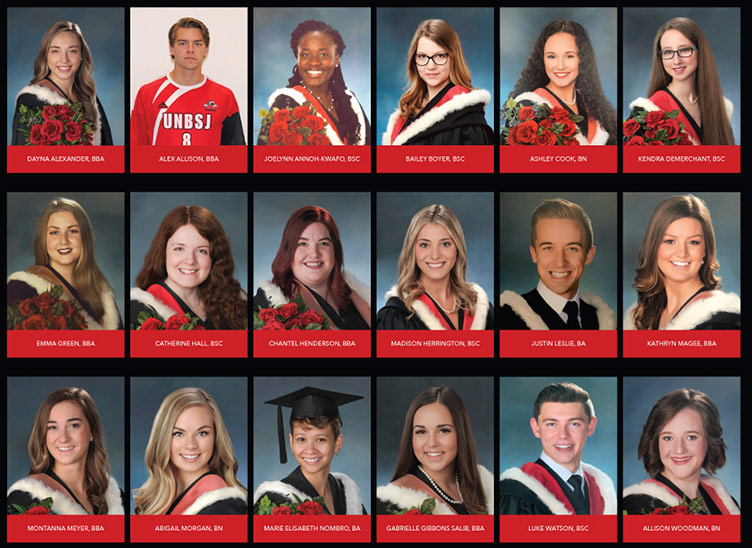 ---
Eighteen graduating students from the UNB Saint John campus have earned Graduating Student Leadership awards for the remarkable initiative they've taken during their time at UNB.
The award recognizes students in their final year of studies who have made outstanding voluntary and extracurricular contributions to the campus, their academic program, and the university community.
Although we couldn't be together for our annual UNB Saint John Graduating Student Leadership awards dinner, the Associated Alumni celebrates a group of students who have so positively impacted and shaped our community. We are so proud of the voluntary contributions and outstanding leadership our graduating students have shown to their academic program, to initiatives on campus or to UNB Saint John as a whole.
Congratulations to our 2020 UNB Saint John Graduating Student Leaders: Dayna Alexander, Alex Allison, Joelynn Annoh-Kwafo, Bailey Boyer, Ashley Cook, Kendra DeMerchant, Gabrielle Gibbons Salib, Emma Green, Catherine Hall, Chantel Henderson, Madison Herrington, Justin Leslie, Kathryn Magee, Montanna Meyer, Abigail Morgan, Marie Elisabeth Nombro, Luke Watson and Allison Woodman. Read the bios of our 2020 recipients.
Also awarded as part of the program is the Anthony Enman Unsung Hero Merit Award, which honours a Saint John campus student enrolled in the final year of an undergraduate degree program, and has made outstanding contributions to the university and surrounding community. The 2020 recipient is Montanna Meyer, an incredible ambassador for UNB Saint John, and a five-year veteran and team captain with the Seawolves volleyball team.
Created by the UNB Associated Alumni, the Graduating Student Leadership awards program celebrates its 15th anniversary this year. More than 325 alumni have been recognized as a Graduating Student Leader since 2005.