Could Manufacturing save New Brunswick?
Author: UNB Alumni
Posted on Jun 30, 2020
Category: Insights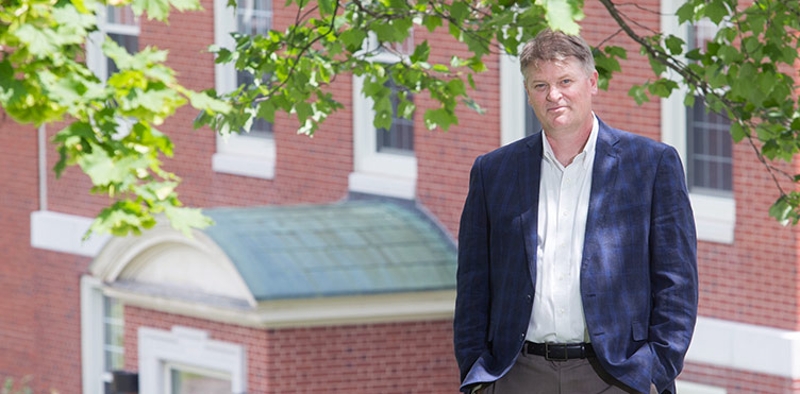 ---
Herb Emery, UNB's Vaughan chair in regional economics, gives us insights into N.B.'s manufacturing strengths, and what it will take for that sector to lead the province's economic recovery.
In March 2016, right after I had resigned my tenured professor position after more than 20 years at the University of Calgary to move to UNB to take up the Vaughan Chair in Regional Economics, MacLean's magazine published its infamous and economically damaging "The Drive Through Province: Can Anything Save New Brunswick?" It's taken a few years of research, and engagement with government and the business sector, but I think that the message from our work at UNB is – yes, something can save New Brunswick and that is addressing the competitiveness of manufacturers in our province who are committed (to paraphrase Frank Sinatra) to making it here, and not just making it anywhere. And in a post-COVID19 world, most countries are looking to manufacturers to drive growth.
The MacLeans article demonstrated the general ignorance of Canadians when it comes to the New Brunswick economy and blinded many New Brunswickers to the shifts and transformations that were occurring in traditional sectors like forestry and manufacturing. Reports of the death of our province's traditional sectors have been exaggerated. After devastating setbacks after 2004, the forest and manufacturing sectors have recovered unlike in many other provinces and U.S. states. New Brunswick's producers modernized, got bigger and thanks to the Highway 2 investment, are increasingly concentrated closer to that transportation route.
It might have surprised the MacLean's journalist to know that Moncton and much of the province along highway 2 didn't need saving in 2016. Moncton, along with most cities and towns along highway 2, are part of a full employment "corridor" economy in large part because of manufacturing and the related services and supply chain for the sector. Income and population growth in the highway 2 corridor is as strong as the rest of Canada. New Brunswick's challenge to grow has more to do with the struggling Northeast of the province which has not benefited from the same infrastructure investment to retain its population.
The manufacturing sector's share of provincial GDP hasn't changed in 20 years and is high enough that New Brunswick is the fourth most manufacturing intensive province in Canada. Manufacturing continues to also be a major employment sector for the province counter to the belief that its role has diminished. Ironically, the higher employment in manufacturing in the past was the result of the province's abundance of labour which supported labour intensive production. Today, the lack of labour is what limits employment growth in the sector rather than weak demand for labour as many assert.
Manufacturing is the only sector outside of publicly funded services like health and education with higher wage paying medium and large enterprises throughout the province. In other words, it is a sector that offers growth opportunities to both the three cities in the south and for maintaining economic opportunities in smaller cities and communities throughout the province.
And all of this economic resilience of manufacturing was in spite of government policy and regulation. Thanks to MacLean's and stakeholders groups that don't like New Brunswick's "traditional sectors", policies and actions of public agencies that contributed to the recovery and transformation of New Brunswick's economic engine are misinterpreted as "corporate welfare". Rather than unnecessary subsidies for producers, governments have had to compensate producers for the poor regulatory and tax environments that have evolved under successive one term provincial governments. Instead of policies that drive growth of manufacturing exports, they have instead kept the business climate from getting worse just to keep the jobs that we have.
MacLean's was "not wrong" in the sense that what can't be saved at this point is New Brunswick's "new" post 2008 economy based on public spending, high taxes and borrowing to create jobs. The wishful thinking that the miracle of Keynesian spending multipliers would create growth from the consumer spending induced by high levels of public spending hasn't paid off. The public sector driven economy experiment has run for 10 years and it has resulted in net job losses outside of manufacturing and no GDP growth outside of what we got from manufacturing when the Canadian dollar depreciated. Just like with the McNair government's attempt to use the power of the public purse to drive the province's economy after World War II, investors are shunning New Brunswick and that is what is bringing "the fiscal cliff" ever closer.
Since 2008 New Brunswick has shown that "inclusive growth" can be achieved by not growing. After 10 years, data shows that New Brunswick's middle class has grown and thanks to absence of high income earners who are not doctors, professors (like me), or professionals in the public service, we have no measured income inequality like the provinces dominated by large corporations, particularly energy and resource companies. Greater equality in income has not resulted in a more prosperous economy, nor has that outcome done anything to address poverty and its toxic outcomes.
Many top earners in New Brunswick are middle class Canadians. And as much of the money to pay our top 1 percent of earners comes from the rest of Canada we have demonstrated that transferring income to the middle class does not grow the economy.
Being one of the greenest provinces in Canada in terms of meeting Paris Climate Change target carbon reductions has not demonstrated the power of clean growth to this point nor garnered much in the way of recognition or credit from the rest of Canada.
What can save New Brunswick is a recognition that the resilience of manufacturing in the face of economic and policy induced headwinds represents an opportunity to grow the economy if we set policies, reformed regulations and generally created a business climate that channeled energy and resources our businesses expend to survive here into expenditures to grow here.
At this point, I don't think the onus is on manufacturers to do more for the province. The province needs to do more for them if we are to see investment in new machinery and equipment, and buildings, that will return our labour productivity growth back to what we had before 2008. Prior to 2008, New Brunswick manufacturing had labour productivity on par with that of Ontario and Canada, and since that time, we have stagnated and are now as weak as Nova Scotia.
For manufacturing, and the business sector overall, to save New Brunswick, we need an attitudinal change in the province. We need to see a government that "gets it done" in terms of getting the last 41 km of single lane highway in Quebec twinned to eliminate Canada's most visible and distasteful interprovincial trade barrier. We need a government that purposefully uses the already high spending on education and post-secondary education to do more than it does currently for workforce development. We need a government that prioritizes more predictability in energy costs, labour costs and other key inputs for production controlled by government policy.
To save New Brunswick we need governments and the voters that elect to bring one simple concept more to the forefront into their thinking. As has been observed for the United States, expanding exports and reaching manufacturing's employment potential requires a business climate that gives companies, domestic and foreign, confidence that it is profitable to manufacture here.
And, guess what? New Brunswick had that perspective with its economic development strategies rolling out before 2009. Maybe it's time to go back and learn what is possible from the period when New Brunswick still believed in its business sector.