Volunteerism and finding the right opportunities for you
Author: UNB Alumni
Posted on Jun 30, 2020
Category: Young Alumni , Insights , UNB Saint John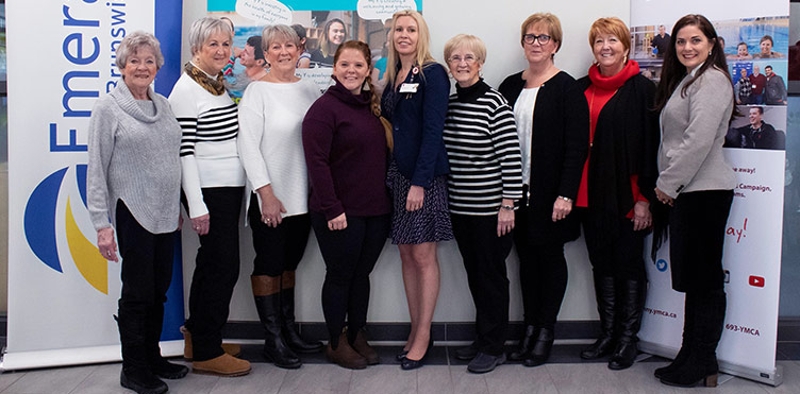 ---
Three-time UNB alumna Katelyn Hunter (BA'10, BEd'12, MEd'16, fourth from the left) is the recipient of the 2020 YMCA of Greater Saint John's Leader to Watch Award. She devotes many hours to being a coach, mentor and advocate for women's rugby, providing development opportunities for female athletes, coaches and referees with funding from the government of New Brunswick. Beyond her career as a teacher at Touchstone Academy, she is heavily involved in her school's annual Amazeatorium event and has implemented an educational outdoor curriculum called "Eco-Camp." Volunteerism and giving back are part of Katelyn's core values.
What personally drives you to volunteer?
I have volunteered in one form or another almost my entire life. I passed out the Apple-Shivers in elementary school, I decorated for the sock-hops in middle school and was active in student council until my high school graduation. When I was in grade school, I did it because it was fun and it meant having unprecedented access to the teacher's lounge-- which at the time came with some significant social clout.
Now, volunteering means creating a community. As cliche as that sounds, I am a big believer in bringing people together with a common purpose. There are valuable causes everywhere, in every nook of society, and volunteers are lucky enough to be those who are able to contribute.
What do you look for in organizations or causes that you consider volunteering with?
I just love the underdog, I am a New Brunswicker after all. It's enjoyable to work with the underestimated and help see their greatness grow. Of course, all volunteers need to resonate with the direction and ethos of the group they're joining; for me that is sport. When I make the decision to put my energy and heart behind something, it's because I feel that cause is an extension of who I am.
How can someone become a better volunteer in order to make a difference with an organization?
I am surely not the authority on volunteering, I can only speak from my experience, however, I would encourage all volunteers to find an organization or cause, that they have a connection with. Try out different opportunities. I once volunteered at a fun-run to record the athletes' track time, I forgot to start the timer for 2 of the 5 athletes. Many unhappy runners that day, but a lesson learned: that is not my "thing". If you can't find your "thing", start something of your own. Although daunting, you'd be surprised how many people are looking for an outlet to help and be part of a community. If this is your route, be prepared for lots of "no's" and feelings of failure.
Running a volunteer or non-profit organization will make you very comfortable with rejection. If it were easy, everyone would do it. Truly the key is (oh no, here it comes): "Be the change you want to see in the world". Whatever change you believe is important, make it!
Do you have any tips for getting the most out of volunteering?
As I mentioned, volunteering is a lot about finding the right fit. I will never be a statistician for a marathon, but I am a very committed board chair. If someone hopes to volunteer their time in order to build their network or bulk up their resume, perhaps that is what fuels their drive. All the power to them.
For me, I get the most out of volunteering when I can see a plan or an idea from inception to completion. That feeling of accomplishment is what drives me. Whatever your motive, donate your time humbly and without need for reciprocity. It is a privilege to help and be part of a community of committed individuals with a common goal.