New UNB grad offers help to Saint John students during pandemic
Author: UNB Alumni
Posted on Jun 30, 2020
Category: UNB Saint John , Inspiring Stories , Young Alumni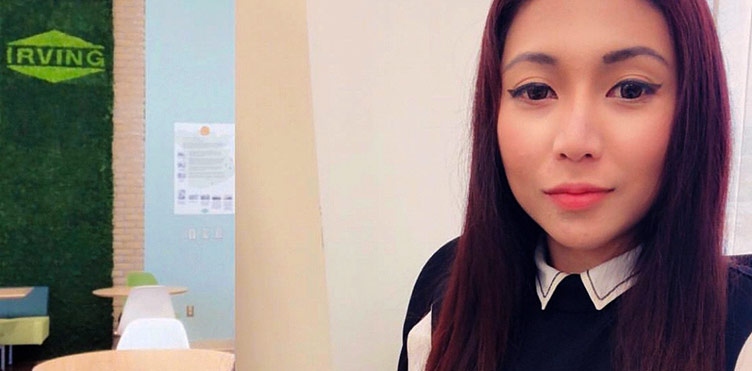 ---
Clariza Bergeron (BBA'20), moved to Saint John from the Philippines six years ago to live with her Canadian boyfriend and become a part of the nursing community. With a master's degree in nursing in hand, she unfortunately found that the process to become qualified to practice in Canada was too long and cumbersome. So, she switched gears to take advantage of having UNB in her backyard and enrolled in the business degree program. She had always been mathematically-minded, so chose an accounting and finance specialization and began working immediately through the co-op program.
"Luckily, I was able to get a co-op term with J.D. Irving and they kept me on for two more co-op terms after that," Clariza explains. "They even hired me part-time as I finished one more term at school, and when I finished my classes in December of 2019, I was hired on full-time as a business analyst with the finance team."
When the COVID-19 pandemic hit and in-person classes were forced to shut down at UNB, Clariza offered to help international students who were thrown into a stressful situation.
"I had been part of many organizations while I was a student at UNB Saint John and got to know other international students, says Clariza. "I knew that many of them needed help, either at the residences where they continued staying or in apartments off-campus. I was able to supply them with masks and gloves (which I kept on hand as part of my Asian upbringing) and offered to help with any other supplies they needed. It's natural for me to help whenever I can. I know how hard it was for me to come to a country where I didn't know anyone or anything – so if I can make it easier for others, I'm so happy to do so."
Clariza also volunteers as a mentor to UNB students preparing for job interviews. "Especially now, when the interviews are being done online, students need help in knowing how to present themselves."
She's no novice when it comes to putting herself out there and getting involved in the community. While she was a student, Clariza joined the international students club and started up a number of book clubs among students. She was president of Enactus, a community of entrepreneurial leaders at UNB Saint John that see business as a way to address social issues. And she volunteered for a local hospice organization, as well.
Although she claims she's an introvert, she says that forcing herself to engage with others made a huge difference in developing a sense of community and building a network that has allowed her to thrive in a new country.
"Now it's time to give back."