UNB research using foot care tool to engage with NB seniors
Author: UNB Research
Posted on May 10, 2021
Category: Partnerships , Research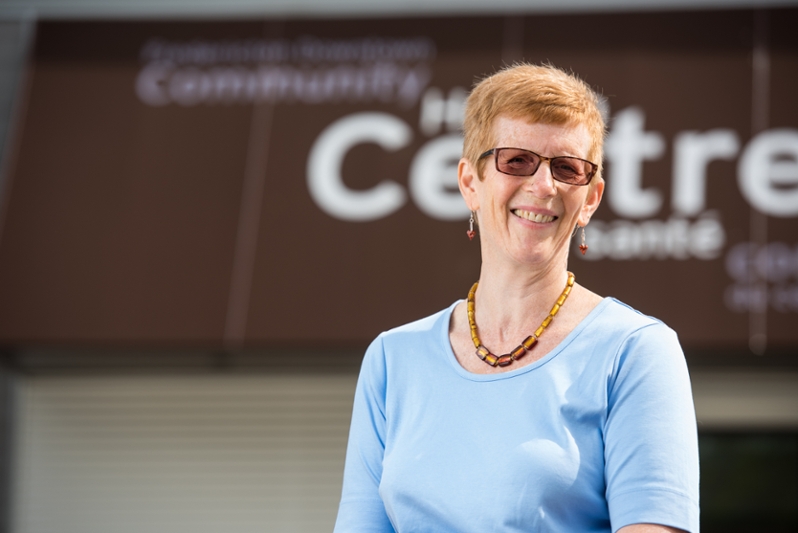 ---
Healthy Seniors Pilot Project: Mobile Health Seniors' Network
In February, we announced the five UNB projects funded by the Healthy Seniors Pilot Project (HSPP). We've been working with the research teams to help tell their stories and share insight into their research.
Today, we feature Dr. Tracey Rickards, associate professor in the faculty of nursing at UNB, whose Mobile Seniors' Wellness Network: Reaching Rural New Brunswickers research project received more than $1.5 million in funding.
Who are you?
Dr. Tracey Rickards:
I am an associate professor of nursing at UNB, and the UNB manager of the Downtown Community Health Centre.
My area of focus has shifted over the years. I have always been interested in the experiences of vulnerable populations, through a lens of identifying ways to change and improve systems that create barriers to access. My earlier work centred on sexual and gender minority communities, in particular.
When I was awarded the CIHR Embedded Clinician Researcher Salary Award, my focus broadened to improving health outcomes for otherwise vulnerable populations. I explored the experiences of being a senior living in poverty and who were social and physically isolated; I looked at trying to identify ways of improving the health outcomes of people living with or at risk for COPD – early diagnosis provides an opportunity for decreasing the health care costs and improving quality of life; I explored whether stable housing contributed to better health outcomes for people who had experienced homelessness, and finally, with another scholar, we evaluated the role of the Nurse Practitioner (NP) in New Brunswick. In that project, we found that NPs love their jobs, but find some of the systemic barriers to be a challenge, and also that clients of NPs are very satisfied with the care provided.
What are you working on?
Our Health Seniors Pilot Project (HSPP) is the Mobile Health Seniors' Network; our focus on reaching rural New Brunswickers came about as a result of a smaller study I did with low-income seniors. Working with a great group of people including community developers, other researchers, nurses and others, we developed our concept for a multi-disciplinary approach to improving the ability of seniors to stay in their home for as long as they are able.
By luck and good timing, we were connected with Dr. Karen Cross, a plastic surgeon at St. Michael's Hospital in Toronto. Dr. Cross was interested in our focus on foot care with seniors. She had developed a tool that takes infrared images of seniors' feet, helping to identify poor circulation that could lead to foot ulcers or other health concerns before they happen called MIMOSA, the Multispectral Mobile Tissue Assessment Device. MIMOSA was in the research and development phase and being used in clinical settings, and Dr. Cross wanted to trial it in a community setting.
We were also very concerned with the isolation, loneliness and depression experienced by seniors living alone, and how to identify resources that could support aging-in-place. The two may not seem directly connected, but foot health is both an important factor in seniors' ability to leave their house, and we can use foot care as a tool for engaging with seniors more broadly about their needs.
By providing an in-home foot care service, we can talk to them and understand their experiences. In our project, nurses are making home-visits to provide foot care and use the MIMOSA to scan the feet, and they also administer some field-tested tools to determine their level of frailty, their need for support, and their overall quality of life. A social worker then makes a visit to see what resources the seniors might need in order to stay home longer. The nurses and social workers also have access to home support workers and an occupational therapist who can visit the seniors to explore further resources or provide some additional support.
Our multidisciplinary team work together to support seniors, improve foot health, ensure that their home is safe, and provide them with access to resources as needed. Sometimes, those needs are as simple as, 'I need someone to fix my back stairs, because they're too rickety to use.' It's an impossibly simple request, and can also be an exceptionally complicated one, because although there are many programs available to provide help, they aren't always easy to find or to access. So, we're also hoping to create a more streamlined way to help seniors access these resources.
We anticipate we will find creative ways to decrease social isolation, loneliness and depression. We are hoping to demonstrate that spending a little bit of time and money on seniors wanting to live at home can create significant savings for our healthcare system in the long run, and can lead to better quality of life outcomes. Identifying the resources that are available but that are not easily found by seniors can support their wishes to age-in-place, and so we are also hoping to develop a network of resources for seniors to use and access easily.
Our HSPP funding has allowed us to establish the MIMOSA partnership, and is being used to support staff salaries and learning opportunities.
Why did you decide to work on this research?
What is important to me as a nurse and a researcher is that our efforts can create positive change in systems that are not working as well as they could to support our aging population. We recognized that with minimal intervention we could make an appreciable difference in the quality of life of seniors living alone. We knew that by interacting with the seniors we could decrease social isolation and support their desire to increase involvement in community activities.
We want to demonstrate how easy it is to provide care and support to seniors and the positive effect it can have on their quality of life, social isolation and depression, while allowing them to stay in their homes where they are comfortable and familiar with their surroundings.
Dr. Tracey Rickards (orcid)| Faculty of Nursing | Fredericton Downtown Community Health Centre | Dr. Karen Cross (University of Toronto; St. Michael's Hospital) | MIMOSA Diagnostics (Company site)
Research at UNB | Graduate Studies at UNB | Postdoctoral fellowships
Related Pages: Healthy Seniors Pilot Project: Five UNB projects receive funding