Stephenson to Reunite with Former Teammates
Author: Stephanie Guimond
Posted on Aug 24, 2017
Category: Volleyball
Blake Stephenson, from the small community of Hartland New Brunswick, is ready to bring his volleyball game to the next level. Starting in September he will be a part of the Seawolves family. As one of the newest recruits of the Men's volleyball team, Blake began playing volleyball in the seventh grade. Upon completing his first season he was selected to join the New Brunswick provincial team that same year.
As per Blake:
"I enjoy the game because it is something that challenges me. Volleyball is something that I continue to do year after year and I always find myself getting better. I will never stop learning about the sport and improving my game play"
Over the course of his high school volleyball career, Blake has captured two provincial championships and won gold in tier 2 play in Newfoundland with VNB. In addition to his success, his leadership qualities got him the title of Team Captain during his remaining two years of high school. There will be a few familiar faces awaiting him at UNB Saint John once he arrives in the fall. Blake played club volleyball in Fredericton for the Tommie's from 2015-2016 which was coached by our current women's volleyball head coach Lauren Miller. There he clenched the most improved player award for the Tommie's club team in 2015-2016.
"As a young athlete, I hope to add diversity and energy. I'm just looking forward to getting to know everybody and have them know me as well."
On the court Blake will join forces with former teammates Jacob Mclean and Zane Hamilton where they will be sure to pick up right where they left off. "Being able to be back under their wings was a big factor when deciding on joining the Seawolves."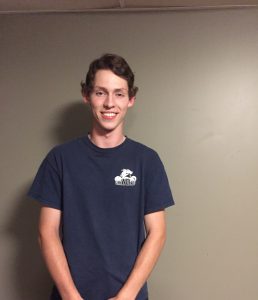 Blake received multiple principles and honors list awards throughout his academic career. Blake ultimately chose UNB Saint John as the ideal place for him as soon as he saw the campus. "Everyone I met was super nice and welcoming," Blake will be studying engineering and plans to specialize in mechanical or electrical as his studies continue to press forward.
Welcome to the squad Blake!