Feels Like Home: Johnson Joins the Seawolves
Author: Stephanie Guimond
Posted on Jul 13, 2017
Category: Volleyball
Tyler Johnson, from Oromocto, NB will continue to pursue his love for volleyball with the UNB Saint John Seawolves. The Oromocto native is looking forward to making the leap from the high school level to the University level. He has been playing volleyball since his grade 7 year where he immediately fell in love with the sport.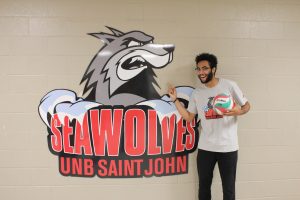 As per Tyler
'I love volleyball because of the intensity and energy you get from each practice and game. I love how the team feeds off of each other, the energy of the crowd, and how we work together as a unit to pull out big plays and hits."
Over the course of his high school career, Tyler has left his mark by achieving many accomplishments. His volleyball background includes an impressive junior varsity start receiving coaches most improved, he played for VNB and in tenth grade was called up to varsity where he won the team MVP award. Tyler's hard work and dedication also earned him the James Sidney Bigger athletics award and the Purolator Couriers – most sportsmanlike award.
"Overall volleyball takes 1st for me. I have played middle since day one while developing a keen sense for reading the play, and have become a fast, agile, responsive player." Volleyball was not the only sport he enjoyed playing, Tyler also participated in soccer, basketball and hockey.
Hockey has been a huge part of Tyler's life as he continued playing it the longest alongside his volleyball. He credits hockey saying "Hockey was the first sport to teach me about teamwork, determination, and commitment." Tyler played for the tri-county Rivercats and then later was encouraged and selected to play AAA varsity during his final two years of high school.
Tyler chose to come to UNB Saint John for a number of reasons.  "I chose UNBSJ because I love the feel of the campus. It felt like home the moment I stepped in the door. Everyone is so helpful, friendly and welcoming". He has been accepted into our Bachelor of Arts program where he plans to pursue criminal justice in addition to a psychology or sociology degree. Tyler is potentially aiming for a career with the RCMP once his studies are complete.
Welcome to the Seawolves family Tyler and were looking forward to seeing you on the court!
GO SEAWOLVES!
*Article written by Scott Mehan, UNB Saint John Athletics.