Coming Home To NB, Birney Commits to Seawolves
Author: Stephanie Guimond
Posted on Jun 13, 2017
Category: Volleyball
Maggie Birney has been hooked on Volleyball since she was 12 years old. Her hometown of  Fredericton, NB is where her competitive nature started while trying out for her school team in Grade 6. Her volleyball background includes earning provincial titles at the high school and club levels, played VNB for two years and NTCC for one year. She was also awarded Female Athlete of the Year for Leo Hayes High School. Her most recent Volleyball endeavor was attending Mount Saint Vincent's University  where she won two ACAA banners while maintaining a 4.1 GPA.
She chose to come to UNB Saint John for academic reasons but is  excited to be reunited with a long time friend Taylor McGrattan, who is currently the setter for the Seawolves. Birney and McGrattan have a great past as friends and team mates, they shared the joy of winning titles together before their transition to University Volleyball.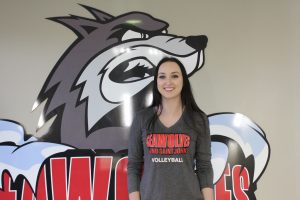 As per Maggie:
"I am very excited to be joining a team with so much potential and amazing coaching. I hope to bring my competitive spirit, my desire to win and experience in high pressure games to the Seawolves. While I do enjoy having fun, I take volleyball very seriously and I am excited for what the season has to bring".
Her love for the sport has only increased over the years and she loves the thrill of being successful. She plays because she knows no better feeling than being on the court, her passion will bring a lot to the Seawolves volleyball program.
Coach Lauren Hale-Miller is absolutely thrilled to have Maggie come to UNB Saint John in the fall! She previously coached Maggie in High School and Club Volleyball.
"I'm looking forward to coaching her at the ACAA level. Maggie is a fierce and driven competitor and will do anything to win. Not only will her competitive nature contribute greatly to the Seawolves but her volleyball IQ and presence at the net will pose a huge threat to our competitors".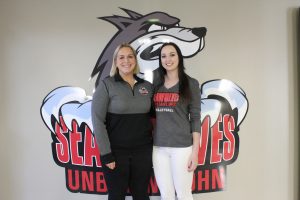 Maggie will be continuing her degree in Biology and will work towards becoming a pharmacist in the future.
Welcome to the Seawolves Family Maggie!!