Watters signs with Seawolves Basketball
Author: Stephanie Guimond
Posted on May 2, 2017
Category: Basketball
The UNB Saint John Seawolves have added their third recruit to the Men's Basketball roster.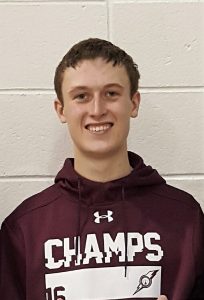 Ian Watters is a point guard from Miramichi, NB and has been playing basketball for as long as he can remember. His basketball background includes playing for team New Brunswick 14U, 15U, 16U and 17U and was named AAA Northeast Regional All-Star 2016-17. Ian was a team member of the  AAA basketball champions where he scored a three point shot with only seconds left in the game, followed by a successful free throw to tighten up the score. He was top in points for the match with 19 points that led Miramichi Valley to the first place title.
Ian will be taking the Bachelor of Science program at UNB Saint John. He believes that UNB Saint John is the best place for him to focus on his academics and basketball. He wanted to go somewhere that he could make an impact on the program right away. Ian will be joining the Seawolves line up alongside his Pulamaloo team mate Jacob Vickers, the duo did well together at the high school and provincial level now its time to take the next step.
"I also liked the campus and it just seemed like the right fit from the beginning". -Watters
Welcome to the Seawolves Family Ian!
GO SEAWOLVES!