Seawolves Men's Basketball add some "Country" to the mix
Author: Stephanie Guimond
Posted on Apr 12, 2017
Category: Basketball
Head Coach Peter Vincent has been busy lately searching for new talent for the Seawolves Men's Basketball team.  Peter understands what it means to put the work in to find solid athletes for his team. He has traveled around New Brunswick and to Nova Scotia with the goal of progressing his team to its full potential.
Jacob "Country" Vickers will be a member of the Seawolves family for the 2017-2018 Varsity Season. The 6'5" forward from Miramichi, New Brunswick has an impressive athletic resume and is quite the entrepreneur.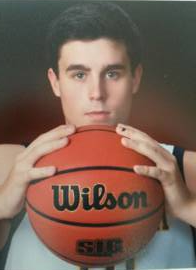 Vickers played at the provincial level for the U16 and U17  New Brunswick Basketball team and went to Nationals in Winnipeg in 2016. He was Captain of the Miramichi Valley Pulamoo Basketball team and led his team to a AAA Provincial title. He played football for his high school team in 2016 as a quarterback and captain of the squad. "Country" made a name for himself with the community of Miramichi and will certainly make a great impression with the Seawolves Men's Basketball team.
Jacob is not only athletically successful, he also maintains first class honors in academics. He will be taking the Bachelor of Business Administration in Marketing here at the UNB Saint John Campus. Jacob's program of choice will  increase his entrepreneurial skills while playing basketball for the Seawolves.
Darwin Vickers (Jacob's father): "Jacob has always been quite the entrepreneur, when he was 8 he decided that he wanted to raise chickens and sell the eggs. At one point he had 52 chickens and had a loyal customer base. He was very proud of his product and made a very good return on his investment. [Jacob] was always appearing with his cooler selling his wares, hence developing the nickname "Country".
Head Coach Peter Vincent spoke  highly of Jacob and expressed how thrilled he is to have him [Jacob] on the squad for the 2017-2018 season.
For more information on our Men's Basketball program please click here.