Seawolves Land Middle Hitter from Sussex, Women's Volleyball
Author: Stephanie Guimond
Posted on Apr 6, 2017
Category: Volleyball
Bridget Smith has been on the volleyball scene for 5 years and she certainly has a great love and passion for it.  The fun and positive atmosphere is right up her alley and she thrives in it.  Finishing off a high school volleyball career as a Sussex Sonic, Smith is ready to start training.Winning MVP of her Volleyball team in Middle School, Most Improved Player in High School and MVP for her club team 2017, she's eager for the next step. One of several factors that led her to choose the Seawolves Volleyball program was her cousin, Taneesha Dalling, power hitter for the Women's team. Dalling will be graduating soon and moving on to her career aspirations. Although the two will not be playing together, there is no doubt that her big cousin will be in the stands cheering her on. As a first year student and Rookie to the Seawolves team, Smith will be taking the Bachelor of Arts program here at the UNB Saint John campus. She chose UNB Saint John because it is close to home and offers the courses she wishes to pursue.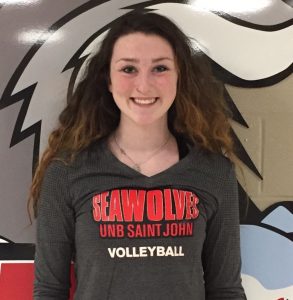 Factoring Smith into the equation will prove to be a great highlight to the Seawolves Women's Volleyball program. She will be an incredible addition, her athleticism and passion for the game will help her and the team work its way to success. As a 6'0" middle blocker from Sussex, New Brunswick she will fit right in and her energy will be well received. She is excited to be a part of the Seawolves family, representing her new school and making her old school proud as she takes on a new chapter in her life. As Head Coaches do, Lauren Hale-Miller set out on a search to prepare for the 2017-2018 ACAA Volleyball season. She first noticed Smith at the New Brunswick Provincial team tryouts in 2015 where she made the 16U Elite team. Lauren has watched her grow into a great volleyball player and is excited to bring her into the mix and move her game to the next level.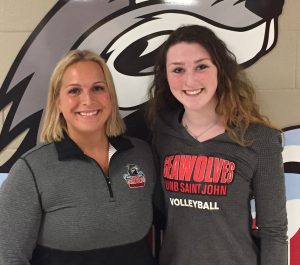 Welcome to the Seawolves Family Bridget!!!
Go Seawolves!!!