Nova Scotia to New Brunswick for Basketball
Author: Stephanie Guimond
Posted on Apr 12, 2017
Category: Basketball
A 5 hour trip is worth it to Austin Buchanan. He recently committed to the Seawolves Men's Basketball team and Head Coach Peter Vincent is thrilled.  From Lockeport, NS to Saint John, NB Buchanan is eager to extend his talent. He will be a UNB Saint John student and join the Seawolves family in the fall of 2017.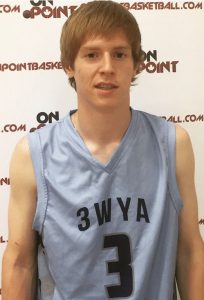 Peter Vincent (Head Coach) heard about Austin through a friend in Nova Scotia.  The next step for Peter was contacting the soon to be graduate and reviewing a highlight video of his skills. Austin made two trips to Saint John to meet Peter and learn what the Basketball program was all about. He was impressed with Austin's talent, interest and commitment to travel. His last visit with Peter proved to be a success because his performance was looking even better, especially from a shooting perspective.
Austin will be in the graduating class of 2017 at Lockeport Regional High. There, he played for the school team, the Clearwater Hustlers and 3WYA (We Will Win Youth Association). He played on the Junior team in middle school and won 2 Regional Championships. His Senior team ranked 3rd place in the 2016 Provincial Championships but could not compete in his last year due to the Nova Scotia Teacher's Union strike. Austin has received multiple awards, MVP for the past 5 years, Athlete of the Year and was captain of the Junior team (grades 7-9) and his Senior team (grades 10-12). He has left quite a mark during his time at LRHS by not only being a top performing athlete but also receiving several leadership awards.
Austin's club team, the Clearwater Hustlers, won 2 gold and 2 silver in provincial championships. His basketball career thus far has brought him to Toronto, New York, Boston, New Jersey and Atlantic City. During his time with the 3WYA he got the opportunity to compete in the Zero Gravity Tournament (Boston) and won 2nd place. In Toronto he competed in the Jane and Finch Classic. New York, New Jersey (Hoop Group) and Atlantic City are also on his travel to compete list. He will be playing for 3WYA in the summer of 2017 before attending UNB Saint John.
To date, Buchanan's biggest accomplishment of his basketball career is signing his commitment to the Seawolves Basketball Program.
For more information on our Men's Basketball program click here.