From fashion to faculty: How a UNB psychology scholar is creating a safer and healthier world
Author: UNB Research
Posted on Feb 6, 2023
Category: Research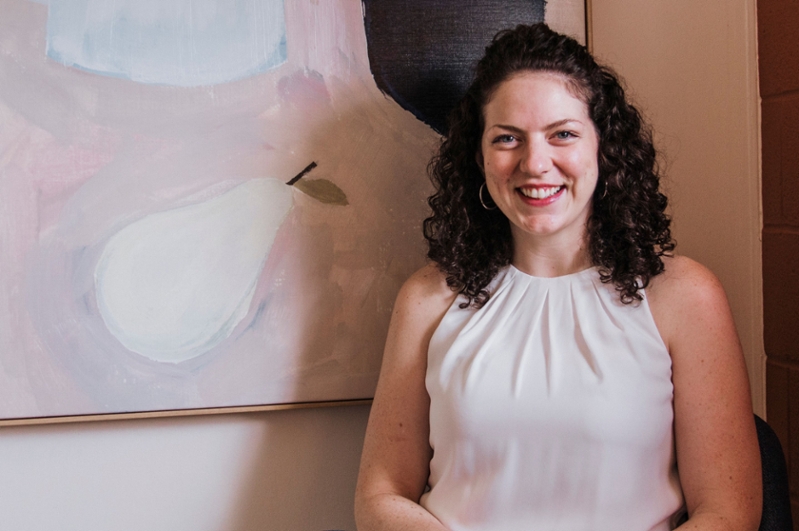 ---
Dr. Emilie Lacroix is a new faculty member at the University of New Brunswick (UNB) who is using her research to create healthier and more positive outcomes for people suffering from eating disorders. We spoke with her about how she came to study the psychology of eating disorders and what she hopes to contribute with her research.
Who are you?
My name is Dr. Emilie Lacroix, and I'm an assistant professor of psychology at UNB. I started at UNB in 2021. My research focuses on disordered eating and negative body image, including questions related to their development, prevention, and treatment.
I'm originally from Vancouver, BC. I moved to Paris, France, at age 17 to study and work in the fashion industry, but after two years, I had become quite disillusioned. I was bothered by the fashion industry's environmental impact and role in propagating unattainable body standards.
So, I instead began a bachelor of arts at McGill University, where I learned of career possibilities in psychology through a work-study placement. I went on to complete my master of arts and PhD in clinical psychology at the University of Calgary, studying body image and disordered eating.
During my graduate training, I completed research fellowships in Brazil and the UK, but I fell in love with the East Coast during my residency with Nova Scotia Health, in Halifax, where I had clinical rotations in eating disorders, health psychology and a borderline personality disorder treatment program.
In partnership with collaborators at Dalhousie University and Nova Scotia Health, we established the Maritime Eating and Appearance Lab (MEAL), a research group that spans psychology, psychiatry and nursing. At UNB, I teach courses in psychological testing and addiction, as well as our honours thesis research seminar. Having studied in a few different languages and locations myself, I'm passionate about supporting international students at UNB and others who might also be a little further from home.
What are you working on?
Currently, I am working on two main lines of research, with the overarching goal of reducing barriers to accessing evidence-based eating disorders treatment.
My first line of research uses data to try and understand what services are needed in the province. Because New Brunswick has few options for eating disorders treatment, many clients must leave the province to access specialized services or a higher intensity of care.
Using administrative health care data housed at the New Brunswick Institute for Research, Data and Training (NB-IRDT) at UNB, my team is examining the extent to which healthcare services are currently being used by patients with eating disorders, the costs of these services and trends in care use over the years and across healthcare zones. This project will inform efforts to build local capacity for evidence-based eating disorders treatment.
Another line of work focuses on treatment for individuals with comorbid eating disorders and substance use disorders. These disorders are the two most deadly psychiatric conditions. They frequently occur together and they interact in complex ways that impede recovery. As a result, people with comorbid eating disorders and substance use disorders experience worse outcomes than those with only one of them.
To lay the foundation for developing an integrated treatment program, we are working on a set of three studies: a scoping review, to summarize prior research in this area; a qualitative study, to better understand the perspectives of people with lived experience of these concurrent disorders; and a focus group study with health care providers, to identify potential barriers to treatment implementation.
My hope is that the insights from these three studies will help us develop a treatment protocol to meet the needs of people with comorbid eating disorders and substance use.
Why is this research important?
Disordered eating and negative body image start early, usually before age 11. Although we know that early intervention is key to recovery, only a small portion of people with eating disorders ever access treatment. Among people who do access care, the delays are long: around 2.5 years for people with anorexia nervosa, but often 5 to 10 years or more other types of eating disorders.
The delays are even longer in rural areas, and we know that gender stereotypes, racism, classism, weight bias and comorbid mental health concerns also play roles in determining who can access treatment. On top of everything else, the pandemic has led to further increases in the demand for treatment.
My experiences in the fashion industry and working in therapeutic settings have made me acutely aware of the prevalence of negative body image and disordered eating.
In our culture that worships thinness and equates it to health and moral virtue, negative body image and disordered eating are incredibly common. The benefits of promoting positive body image and preventing disordered eating arguably go beyond people's health and wellbeing. Reducing the time, mental energy and money that people of all genders sacrifice to diet culture and appearance-related concerns may ultimately allow those resources to be devoted to more meaningful pursuits, benefiting those individuals and society at large.
[Photo: Wolf & Flame Creatives]
More information
Dr. Emilie Lacroix (orcid)| Department of Psychology| Faculty of Arts
Research at UNB | Graduate Studies at UNB | Postdoctoral fellowships