Meet the researcher: Dr. Koumari Mitra, qualitative understandings of homelessness and health care access
Author: UNB Research
Posted on Feb 3, 2023
Category: Research , Partnerships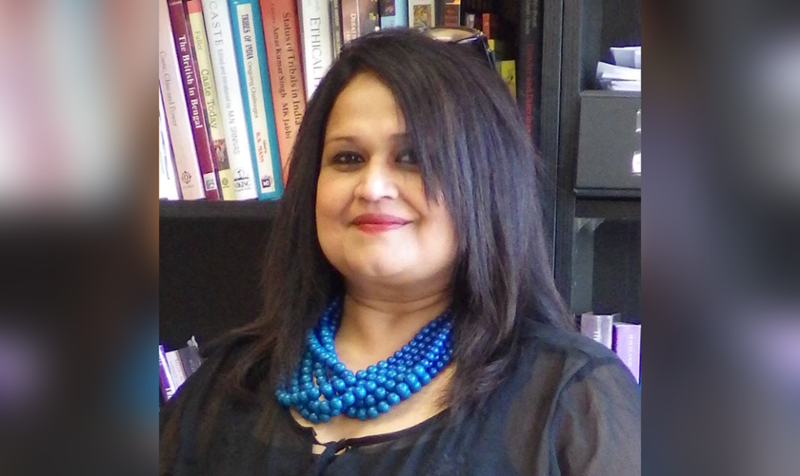 ---
What do unhoused populations experience when interacting with the health-care system, and what kind of gaps do they experience?
In today's blog post, we speak with Dr. Koumari Mitra, an anthropologist at UNB who is working with a multidisciplinary, multi-institutional research team to understand the challenges homelessness poses to health and recovery - and why working across specializations and methodologies is important to impactful research.
Who are you?
My name is Koumari Mitra, and I am a professor in the department of anthropology. My primary research and teaching interests are in medical anthropology, human genetics and biological anthropology. I have a PhD in human cytogenetics from the department of anthropology, University of Delhi, India. Additionally, I received my postdoctoral training from UNB and from the University of Massachusetts, Amherst, USA.
I have primarily been involved in studying gender issues and other intersecting factors pertaining to women's health in India and Canada. Some of my major projects have looked at adolescent and young women's health; awareness of cervical cancer risk factors among high school and university students in New Brunswick; the impact of globalization and HIV transmission in urban slum areas of New Delhi; and adolescent and young women's sexual and reproductive health including the impact of development on tribal health in India.
Can you tell us about the project you're working on?
Our project is a part of a larger project within the Horizon Health Network. They are working on a holistic and comprehensive examination of the barriers that vulnerable populations face in accessing health care, specifically oriented around those suffering from infectious diseases and living with homelessness.
For our part, I'm conducting a qualitative study that seeks to assess and understand experiences and interactions with the medical system, specifically among those experiencing homelessness, living in shelters, or who are otherwise precariously housed. So, we are speaking to those patients or sufferers in those situations, but also to the medical professionals involved.
(We use the term 'sufferers' to describe people experiencing illness; while they are also 'patients' through their contact with the medical system, they also have other experiences, other identities. The term allows us to examine their experiences before and after their contact with the health-care system.)
Because it's qualitative research, we are more focused on understanding experiences than on, say, numeric indicators – rather than looking at population statistics and wait times., we are asking questions like: what is it like for you to get to the hospital? How do you feel when you are discharged? What do you find most challenging in helping unhoused patients with their recovery?
Through these types of conversations and stories, we can take a broad look at various system-level barriers at the community level.
In addition to our core team of researchers, including student researchers Kathleen Mary Varty and Connor O'Brien from UNB; Julie Dingwell, director of Avenue B. Harm Reduction Inc. (formerly AIDS Saint John); and Beverly Blissett, a social worker with Horizon Health Network, we are also collaborating with others at Horizon Health Network and the Saint John Regional Hospital as well as Randy Hatfield and Chris Gorman from the Human Development Council in Saint John, NB.
How did you and your team come to be involved in this project?
Erin Bigney, director of research for the Canada East Spine Centre in the Horizon Health Network, a core member of the larger project, contacted me because she felt that I could bring something to this project based on my previous research with HIV/AIDS patients. I was interested, and so we started to develop a small pilot project with the hopes of securing funding for it.
While looking at the subject, I thought of Dr. Priscilla Medeiros, a former graduate student of mine and now an implementation scientist at Women's College Hospital and SickKids Foundation in Toronto. She has done a lot of work in this area, and so I invited her into this project, and we both ended up being interested in that intersection of health care and homelessness.
With Dr. Duncan Webster, an associate professor at Dalhousie Medicine New Brunswick, in a lead role, we were successful in being awarded a Chesley Family Research Award with matching funds from the New Brunswick Health Research Foundation, which enabled the launch of this project. Dr. Webster also heads the larger Infectious Diseases Collaboration Team at Horizon Health Network.
A short while after, we were fortunate to meet Dr. Eric Weissman, an assistant professor of social science on UNB's Saint John campus. He is the leading expert in this area and very passionate about the issue of homelessness and brings his expertise both in the subject area and with visual ethnography as our co-investigator.
What do you hope will be the impact of your research?
We hypothesize that the social determinants of homelessness and health inequities are intertwined, and disparities widen as individuals struggle with long-term homelessness and poor health outcomes. Given that housing and health are closely linked, achieving health equity for homeless populations is tied to strategies to improve housing stability and address other significant social determinants of health (i.e., access to health services). Our pilot study aims to examine the lived experiences of high acuity patients (people with medical complexities including HIV/AIDS and substance use disorder) living in homelessness to gain an understanding of health disparities they experience, outline the pathways that link housing and health, and provide solutions for enhancing equity for this population.
One of the areas already identified as having the potential to help address some of these barriers is the need for convalescent housing.
Sufferers may be discharged as patients when they are stable enough medically, but they may not be infection free, and they may not be able to look after themselves as they recover. Convalescent housing would give them a place to recover safely in an environment that promotes recovery without putting an additional burden on our medical system.
That is a gap we have identified and would like to fill, though it is beyond the scope of our current project. It is a solution that has already become extremely popular in cities like Vancouver and Toronto, so we would like to see it come to New Brunswick as well.
More information
Dr. Koumari Mitra | Department of Anthropology | Faculty of Arts
Research at UNB | Graduate Studies at UNB | Postdoctoral fellowships