Meet the researcher: Dr. Trevor Hanson: Improving rail safety in Canada
Author: UNB Research
Posted on Jan 24, 2023
Category: Partnerships , Research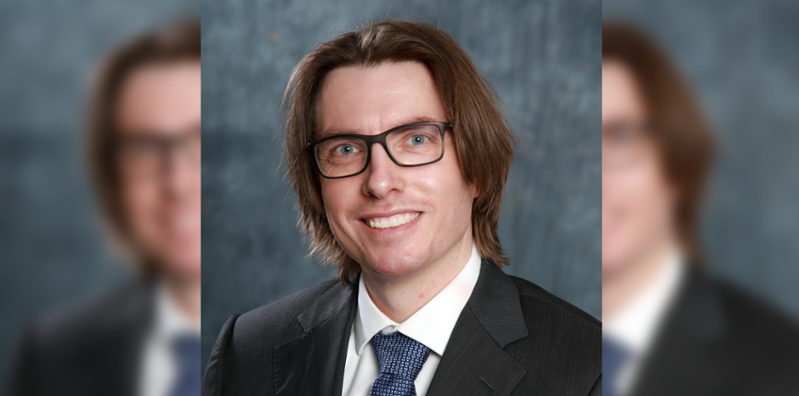 ---
Dr. Trevor Hanson, a professor of civil engineering at the University of New Brunswick, is working with researchers at the National Research Council of Canada (NRC) on a Transport Canada project that could help save lives by making grade crossings safer for pedestrians and people who use assistive devices.
Having just officially announced this project, we took the opportunity to speak with him about his research and why collaboration is essential for its success.
Who are you?
My name is Dr. Trevor Hanson. I am a professor of civil engineering at UNB in Fredericton, where I research and teach transportation engineering and planning. I also coordinate the UNB Transportation Research Group. My work has focused on rural and community transportation, including volunteer transportation. I also have a growing interest in transportation accessibility and in the role that civil engineers can play in helping make the built environment accessible for all.
What are you working on?
If you have ever been on a paved road that crossed over a train track, you may have noticed a gap between the track and the road. This is called a "flangeway gap". Train wheels have a part that extends vertically along the wheel, called a flange, in order to keep the wheels aligned on the track. The flangeway gap is designed to allow space for the flange to pass through, while permitting vehicles and pedestrians to travel over it.
The problem is that these flangeway gaps are wide enough to pose issues to pedestrians, particularly for persons who use assistive devices such as wheelchairs. In fact, with some wheelchairs, the caster wheels can turn and fall completely into the flangeway gap, and when that happens, the pedestrian can become immobilized. In Canada, going back to 1990, we have seen incidents involving a pedestrian's assistive device becoming immobilized in a crossing occur every few years. Tragically, this has resulted in six people losing their lives due to train collisions as a result of being immobilized, and in nearly every case, it was the flangeway gap that created the issue.
If we can find a solution that will ensure a smooth surface for users, while ensuring the train wheels can pass through unimpeded, we can reduce or minimize the risk for pedestrians who use assistive devices to cross at grade crossings. Like other universal design solutions, addressing this issue would also improve safety for others, including cyclists and people with children in strollers, and could see application in urban transit applications too.
You mentioned that this gap is necessary; how do you fill it without interfering with a train's operation?
Based on our previous scan of existing research elsewhere in the world, flangeway fillers are typically some kind of compressible material that can be pushed down by the train wheel, but not by a pedestrian. It then returns to its previous shape, thus providing a flat surface that fills the gap. The technology exists and is being used elsewhere; our question is whether the fillers can be used in Canada given our harsh winter climate, temperature extremes, and heavy rail freight operating environment. We expect that by working with the National Research Council in Ottawa, our results will help stakeholders determine whether there is sufficient potential with current products on the market to warrant an in-service pilot. We will have a steering committee that will include representatives with experience in rail safety, train operations, heavy and light rail, grade crossing safety, and the needs and perspectives of persons with a disability.
How much research is currently happening in this area?
We believe we may be the only Canadian researchers looking at this big picture question at the moment, though there may be companies doing their own internal work on these fillers. The most comprehensive study we have seen is out of Australia, but the majority of deployments we have seen have been in Europe. There is currently no active research on-going in the U.S. at the moment.
How did you get involved in this area, and why were you selected to carry out this research?
Having served on the U.S. Transportation Research Board Accessible Transportation and Mobility Committee, which despite its name is an international committee, I became aware of the Canadian flangeway gap issue as it had been discussed there. After learning about the Rail Safety Improvement Program, or RSIP, in Canada, I put in an application for a Phase 1 of this research, to determine the current state of the research, and put together a plan for second phase. We were successful in that the initial application, and in the course of that work, we connected with the National Research Council of Canada (NRC) for their research expertise and sophisticated rail and materials testing facilities. We put together a new proposal for Phase 2 to RSIP that would involve working with the NRC to conduct lab testing on flangeway fillers. RSIP funding covers 80% of the total costs, so we are thankful that the NRC was able to offer some of their services in-kind to help make this project financially feasible.
How are you collaborating with the NRC on this project?
Researchers in rail technology from the NRC's Resilient Ground Transportation program, have unique expertise in the testing and materials field and we're fortunate to have partnered with them. Our role will be to help inform the testing work that they do, and as part of that, I will be chairing a steering committee that will bring together those with rail safety, operations and accessibility backgrounds. By doing this, we can ensure that by the end of the work, we have conducted the research work necessary to answer the questions we need to in order to move forward on addressing the flangeway gap issue.
We may find commercially available fillers will meet our needs; in that case, we would look to a third Phase where we pilot the technology in service. If the existing fillers do not work, our next phase might be one that looks at developing a new product. Either way, we are hopeful that this project will answer some key questions and lead to a solution. The RSIP funding is critical to enabling rail safety projects throughout Canada, and because of the support we've received, we are able to move forward on this project that has potential to be of great benefit to Canadians.