Meet the chair: Dr. Argyri Panezi, CRC in Digital Information Law and Policy
Author: UNB Research
Posted on Jan 20, 2023
Category: Research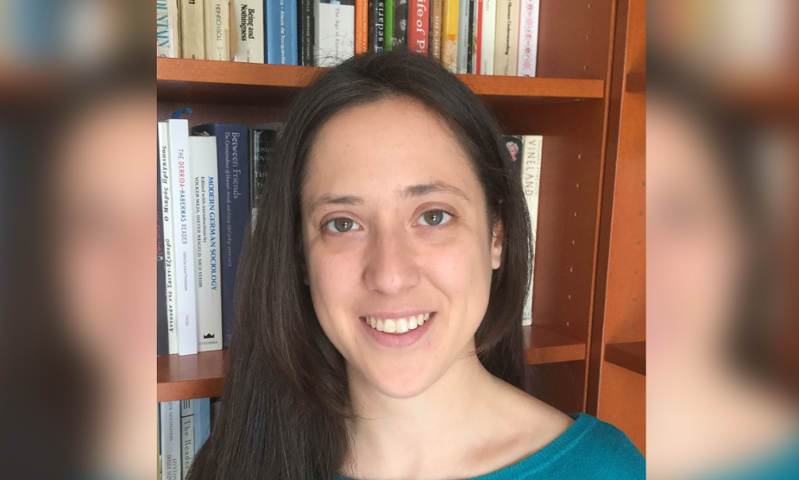 ---
The Government of Canada recently announced new and renewed Canada Research Chairs. Among those is Dr. Argyri Panezi, the new Canada Research Chair (CRC) in Digital Information Law and Policy at UNB. We spoke with her about what brought her to this field, and how technology and law are coming together.
Who are you?
My name is Argyri Panezi, and I am a legal scholar at the University of New Brunswick (UNB) and Canada Research Chair (CRC) in Digital Information Law and Policy. I am a Greek national, born and raised in Athens where my earlier education included the study of the classics. I vividly remember being perplexed by Plato's and others' quest for the meaning of justice and learning foreign languages that would allow me to explore new worlds.
I received my first law degree in 2008 from the University of Athens where I studied both private and public law with a focus on fundamental rights and international law. I continued my studies in the United States, earning my LL.M. from Harvard Law School. There I discovered Internet law, an emerging subject at the time. Yochai Benkler, a brilliant teacher and scholar with a passion for exploring the intersection of law and technology, inspired my interest and passion for this increasingly important field.
In 2012, after practicing law for two years in Brussels, the European University Institute (EUI) in Florence accepted me into its PhD program. My dissertation examined digitization and the digital transformation of libraries. Since graduation in 2018, I have taught courses on intellectual property and law and technology at IEU in Madrid and had a post-doctoral research position at Stanford University.
My research focus has since expanded to explore access to legal information and knowledge and the effects of this access in the judicial process. Judicial outcomes are increasingly influenced by access to information and knowledge and we are only just beginning to understand the impact of this access.
What do you hope to accomplish as chair?
During my CRC term, I will establish a Laboratory for Legal Innovation in the faculty of law. This will be a place where the province's communities, researchers and scholars from across Canada and around the world can discuss the present and collaboratively design the future of New Brunswick's justice system.
I want to identify some best practices and methods that we can use to build inclusive, safe, resilient and secure digital infrastructures for judicial services and to enhance access to justice for the citizens and residents of the province. My research program focuses on two pillars: (1) digitalization and access to legal information and (2) communication among members and users of the justice system in national and international contexts.
My research team will conduct multidisciplinary and empirical research to map the current digital transformation of justice in New Brunswick and in the broader Atlantic region. We will also develop guidelines for process and policy improvements and explore opportunities to innovate these policies. To accomplish our goal, we will collaborate not just with legal professionals, but also with information and communications technology professionals as well as users of the justice system.
Why is it important to study and understand this area?
Access to justice is a fundamental legal right.
As a result of constant technological change, coupled with increasing pressure on the judicial system for efficiency and speed, the ways we exercise this fundamental right are changing.
For instance, during the pandemic, courts changed their procedures and operated effectively remotely and online. In-person justice quickly morphed into electronic justice. Now, as the pandemic recedes, there are discussions about the future of judicial process that incorporate lessons learned during this pandemic and recognize there are new challenges ahead.
These challenges include the sustainability of this new paradigm and the increasing use of advanced technology by justice systems around the world. What role will automation, including machine learning and artificial intelligence, play? How might augmented and virtual reality affect judicial process?
Amidst all of these changes, it is necessary to study the present system and to intelligently guide the future of New Brunswick's justice system. We urgently need to first assess its current digital capacities then use this baseline to develop a plan that will narrow the digital divide and implement reforms. Moreover, it is important that the justice system evolves gradually and according to the needs of its users, rather than jump abruptly from a predominantly paper-based, in-person judicial era to one that employs big data, remote presence and other advanced technological tools.