Remembering - and celebrating - visionary trailblazers: the inaugural CRCP Robbins-Ollivier Award for Excellence in Equity
Author: UNB Research
Posted on Aug 3, 2022
Category: Research , Accolades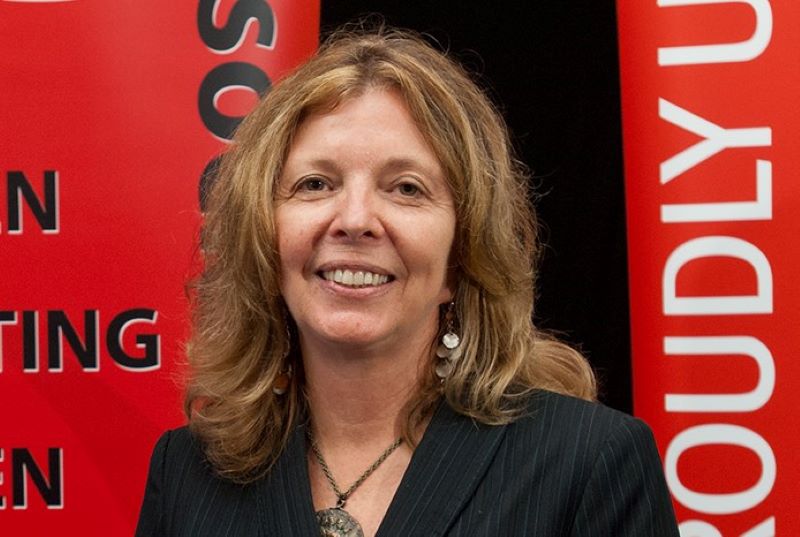 ---
Those who knew Dr. Wendy Robbins knew her as a trailblazer and an ardent advocate for equity and human rights. Today, nearly four decades after the start of her career and five years since her death, that spirit and her legacy are being celebrated by a new national award named in her honour. The award will support visionary projects that advance equity in academia, a cause that drove much of Dr. Robbins' work.
Dr. Robbins was a faculty member in English at the University of New Brunswick from 1984 until her death in 2017. She was the first woman to be promoted to full professor of English at the institution. A scholar of Women's Studies and Canadian literature, Dr. Robbins was co-founder of the Women's Studies program (now Gender and Women's Studies) in 1986 and served as coordinator for many years.
"Wendy had a tremendous impact, both here at UNB and far beyond," said Dr. Joanne Wright, a professor of political science and dean of arts at UNB in Fredericton and a colleague of Dr. Robbins. "She worked tirelessly to improve the lives of women and create more equity for underrepresented groups at a time when the university and society were less receptive to these issues. Wendy's activism at the local, regional and national levels was so impactful that when she died, I received letters and calls from people across the country with whom she had worked to express their sympathy and talk about the impact that she had had on them."
Having brought her expertise to many organizations (Canadian Advisory Council on the Status of Women, Canadian Federation of the Humanities and Social Sciences (CFHSS), Canadian Association of University Teachers (CAUT), she was awarded a Governor General's Award in Commemoration of the Persons Case in 2007, which recognizes outstanding contributions in the advancement of equality for women in Canada.
The Wendy J. Robbins Professorship in Gender and Women's Studies in the Faculty of Arts recognizes her tireless efforts to advance equity within academia and her founding role in the program. UNB also established the Wendy J. Robbins Women's Empowerment Fund in 2017, a fund to support women's public participation and personal autonomy. The fund remains active today and supports the Wendy J. Robbins Prize in Gender and Women's Studies, a $1,000 prize awarded annually. Now, this new award, introduced by the Canada Research Chairs Program (CRCP), sees her legacy carry on outside of UNB as well.
The Robbins-Ollivier Award for Excellence in Equity provides a total of $100,000 over one year to a faculty member or a team of faculty members. The funding supports the implementation of bold and potentially game-changing projects that contribute to understanding the persistence of systemic barriers and identify innovative measures that could be implemented to change the status quo and break down those barriers in the long term.
"Wendy Robbins was an important member of a generation of feminist faculty at UNB, who, from the late 1970s, with student, administration and community involvement, advanced the status of women at the University and in the larger society," said Dr. D Gillian Thompson, professor emerita and a colleague of Dr. Robbins'. "She was fearless in the pursuit of equity, justice and inclusion for women, and she understood that achieving gender equality included working for equity for indigenous peoples and people of colour. It is highly appropriate – and I am delighted – that this exciting new national award is to be named for my friend."
The new award recognizes the significant and impactful contributions that Marjorie Griffin Cohen, Louise Forsyth, Glenis Joyce, Audrey Kobayashi, Shree Mulay, Susan Prentice, Michèle Ollivier and Wendy Robbins have made to advance equity in Canada's research community.
In 2003, Dr. Robbins was one of eight complainants who fought for gender equity in CRCP. They were ultimately successful, and in 2006, a settlement agreement was signed requiring the CRCP to implement specific measures to increase the representation of individuals from the four designated groups: women, persons with disabilities, Indigenous Peoples and racialized minorities.
Dr. Robbins continued to track and report on the lack of gender parity in the program over the years, including contributing to a report to the Minister of Industry in 2012. In 2017, the 2006 settlement agreement was made a federal court order at the request of the equity-seeking plaintiffs because they considered that not enough progress had been made. In 2018, mediation between the CRCP, the equity-seeking plaintiffs and the Canadian Human Rights Commission was held instead of federal court proceedings. An addendum to the 2006 Settlement Agreement was subsequently signed in early 2019.
The award was created as part of the settlement process and is named in honour of Dr. Robbins and Dr. Michèle Ollivier, who died before the 2019 addendum. The results are anticipated to be announced in early 2023.
"We look forward to seeing what the inaugural Robbins-Ollivier Award recipients are enabled to accomplish with this support," said Dr. David MaGee, UNB vice-president (research)."