Meet the researcher: Dr. Heather Millar, political science
Author: UNB Research
Posted on May 12, 2022
Category: Research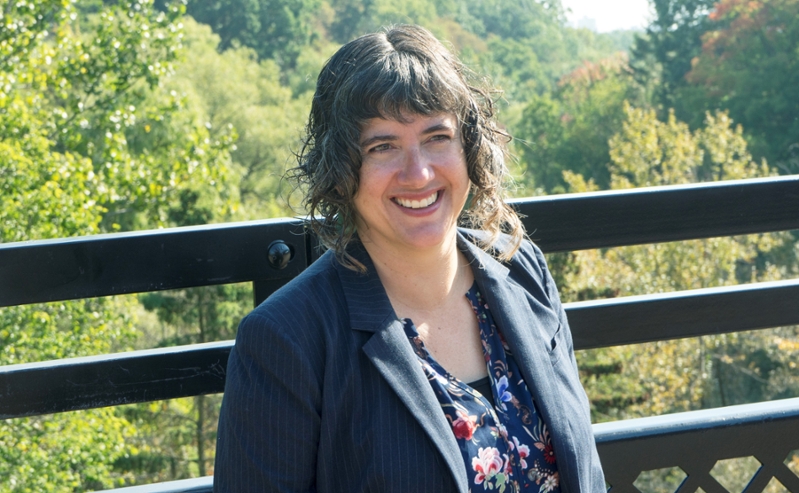 ---
Every day, our institution's social sciences and humanities researchers continue to drive social progress to help make the world a better, safer, healthier, and more equitable place. Here, we shine a light on one of those researchers: Dr. Heather Millar, a political scientist interested in the public policy of, and public response to, energy transitions and generation methods.
Who are you?
My name is Dr. Heather Millar, and I am an assistant professor of political science at UNB.
My journey to the UNB faculty has been bit of a winding one. After completing my BA in women studies and English at Simon Fraser University, I worked as an administrator, project coordinator, and fundraiser in the non-profit sector in Vancouver for about ten years. I worked with a variety of social, environmental, and international development organizations.
Many of groups I worked with advocated for various public policy issues in Canada, and through my experiences with them I became more and more interested in how governments work in Canada and how different provincial and federal governments establish their priorities.
So, I went back to school and did a master of public policy at Simon Fraser University. During my graduate studies, I started to get interested in the politics of policy making – basically, investigating why policy makers adopt certain policies and why some policies are easy to implement while others are not.
I then completed my PhD in political science from the University of Toronto, after which I was a postdoctoral fellow with the Environmental Governance Lab at the Munk School of Public Policy at the University of Toronto Prior to coming to UNB, I also did another postdoctoral fellowship with the Institute of Science Society and Policy at the University of Ottawa.
What are you working on?
Currently, I am focusing on two main areas of interest.
First, I am working on book project that focuses on the politics of fracking. My research examines why governments make the choices they do when faced with economic, scientific, and political uncertainties.
High-volume hydraulic fracturing is a technique used to enable the extraction of natural gas or oil from shale rock. The ecological harms of this technology were uncertain in the early 2000s and 2010, due to several conflicting scientific findings coming out. At the same time, there was a lot of social mobilization and resistance from several concerned communities.
And the economics of fracking during this time was also very volatile, with significant uncertainty both regarding marginal costs of production and global gas markets. In the book, I look at how these dynamics fostered collectively held beliefs that I call "risk narratives." I argue that risk narratives help explain why some provincial governments banned fracking while others facilitated it.
My second research project explores the comparative politics of renewable energy generation in Atlantic Canada. I find it fascinating that even though New Brunswick is considered a carbon-intensive province (which means that our power generation has historically depended on coal and oil and our economy is dependent on production refined petroleum products), the province has decarbonized much of its electricity sector. ("Decarbonization" is the process of shifting to non-emitting economies.)
I am curious about what policies helped New Brunswick get to this place, and what might be some of the barriers related to deep decarbonization – that is, having a completely non-emitting electricity generation system. This project connects to a body of literature in environmental politics that explores how policy design can generate opportunities to destabilize carbon lock-in, the complete dependence on fossil fuels in the modern economy in Canada.
Why did you decide to work on this research?
I have always been interested in social justice. A lot of my work in the non-profit sector was working on social policy; issues of food security, poverty reduction, international development, housing and homelessness.
Initially, I had planned to work on the politics of social policy for my doctorate. However, I became fascinated with the politics of climate change, which I would argue is one of the most important and pressing issues in our current time. What's particularly important about climate and energy is that we are generally well versed with the technologies that will help us get deep decarbonization; we know how to do it.
However, the issue is about the politics of it; about the conditions under which governments will implement policies that can get us to deep decarbonization. We also know that climate change impacts people and communities differently and I am interested in how governments can design climate policies which address long-standing inequities in Canadian society.
I believe it also important to teach students about the process through which government policies get made in Canada, particularly within the context of energy policies. While many discussions related to climate and energy are often oriented around technology, it is important to understand that politics can have a significant influence on social, economic, and environmental outcomes. This a fascinating area in which social science research can really make a difference.
More information
Dr. Heather Millar (orcid) | Department of Political Science | Faculty of Arts
Research at UNB | Graduate Studies at UNB | Postdoctoral fellowships