UNB researcher recognized for outstanding book
Author: UNB Research
Posted on Jan 28, 2022
Category: Research , Publications , Accolades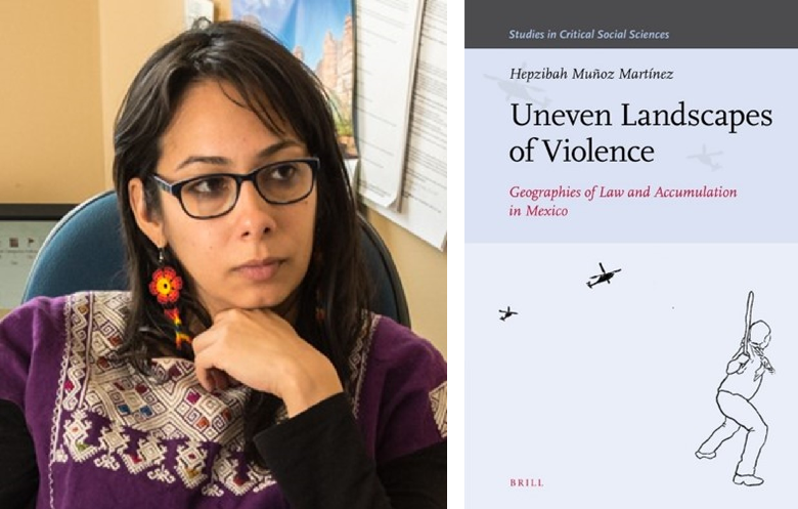 ---
What a way to end the year!
In December, UNB's Dr. Hepzibah Muñoz-Martínez, an associate professor of history and politics at UNB in Saint John, was recognized for her book Uneven Landscapes of Violence: Geographies of Law and Accumulation in Mexico, which was named to the 2021 Choice list of Outstanding Academic Titles.
Choice is a publication of the Association of College & Research Libraries (ACRL), which is a division of the American Library Association and an important group for university librarians. Each issue of Choice contains reviews of new academic titles, which are meant to help academic librarians identify books to add to their libraries' collections.
The list of outstanding titles is published annually in December, and reflects the best in scholarly titles as reviewed in the publication.
UNB Librarian David Ross describes the ACRL as "a big deal to academic librarians. It's a well-known and important association that has an extensive reach. Choice reviews influence the decision-making of collections development librarians across the continent. I'm sure Dr. Muñoz-Martínez's book will be added to more libraries, and read by more people, as a result of winning this award."
Originally from Mexico, Dr. Muñoz-Martínez completed her MA and PhD at York University (Toronto) and taught at the University of Victoria and at Simon Fraser University, before returning to teach in the International and Political Studies program at El Colegio de San Luis. She was also a visiting research fellow at El Colegio de la Frontera Norte.
She joined UNB in 2010, where she teaches and researches in the areas of global political economy, international development, politics of violence, urban politics and Latin American studies.
Her research interests focus on the politics of violence in Mexico, exploring the connections between economic inequality and physical insecurity in its northeastern region. Her research interests also include the politics of finance in the Global South, identifying the social forces and the power relations in financial markets and their effects on public policy and society in Latin America.
Can you tell us a bit about your book?
Uneven Landscapes draws from my ten years of ethnographic work on one of the most violent areas of northeastern Mexico. By the late 2000s and early 2010s, levels of violence by both state and non-state forces in Mexico had reached levels comparable to war-torn countries such as Syria, Afghanistan and Iraq.

In contrast to the mainstream views of systemic violence in Mexico as simply the result of drugs and criminality, a deviation of a well-functioning market economy and/or a failing and corrupt state, I argue in the book that the nexus of criminality, illegality and violence are an integral and defining features of the country's market-oriented policy agenda after 2000.

Dispossession — that is, depriving someone of their land or property — after 2000 took the form of forced displacement, extortion and private appropriation of public funds, while disappearances and an underlying threat of violence in cities became strategies of social control. The emphasis of the market-oriented policy agenda on the rule of law to protect private property and contracts further disguised the illegal, criminal, and violent origins of financial gain and providing the latter with legitimacy behind an appearance of lawfulness.

While I hope to make a theoretical and empirical contribution with this monograph, my main goal was to try to understand why the place where I grew up and where my family lived became a site of terror, armed conflict and forced disappearances in such a short period of time.
What does it mean to you to be included on this list?
I am honored and glad for the book to have received this award. The book, however, is not only the product of my own work, but rather the outcome of constant dialogue with my colleagues and people living in violent situations in Mexico.

Through the recognition that this award brings to the book, I hope we can bring about more awareness of what is like to live in a highly violent context, in a country that is so closely connected to the United States and Canada through tourism, trade, migration, and investment. In other words, I would like people to see and better understand how we are implicated, even in Canada, in processes of violence in other countries, and how we can stop this by fostering real and concrete relations of solidarity rather than indifference.
Dr. Munõz-Martínez' recognition is also being celebrated by her colleagues, including dean of arts, Dr. Heidi MacDonald, who is also a professor of history and politics:
"Dr. Muñoz-Martínez is a valued teacher and researcher who contributes both to the Faculty of Arts and the Bachelor of Health program on the Saint John campus. We are delighted with this much-deserved recognition of the high quality and importance of her research on violence in Mexico."
Are you interested in learning more about Dr. Muñoz-Martínez' research?
Uneven Landscapes of Violence: Geographies of Law and Accumulation in Mexico is available at UNB Libraries in both print and eBook formats.
Learn more about the Choice Outstanding Academic Titles lists at the ACRL's website.
More information
Dr. Hepzibah Muñoz-Martínez | Department of History and Politics | Faculty of Arts
Research at UNB | Graduate Studies at UNB | Postdoctoral fellowships