Meet the chair: Dr. Mohsen Mohammadi, CRC in Marine Additive Manufacturing
Author: UNB Research
Posted on Jan 17, 2022
Category: Innovation & Commercialization , Accolades , Partnerships , Research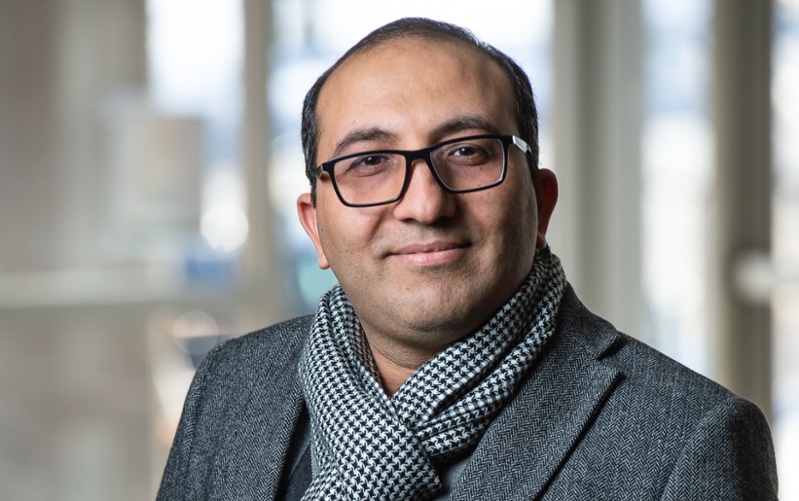 ---
Meet the chair: Dr. Mohsen Mohammadi, CRC in Marine Additive Manufacturing
On January 12, the Government of Canada announced research funding that included $151 million in funding for 188 new and renewed research chairs at 43 institutions across Canada. We're proud to have two of these new chairs here at UNB, joining the 9 other Canada Research Chairs at UNB.
Dr. Mohsen Mohammadi is the new CRC in Marine Additive Manufacturing, where we will continue his focus on this innovative area at the intersection of materials engineering and manufacturing, using 3D metal printing to fabricate parts from materials tailored for specific characteristics.
Who are you?
My name is Dr. Mohsen Mohammadi and I'm an associate professor of mechanical engineering, the director of UNB's Marine Additive Manufacturing Center of Excellence (MAMCE), and the new Canada Research Chair in Maritime Additive Manufacturing.
I completed my PhD in mechanical and materials engineering at Western University and completed a postdoctoral fellowship at the University of Waterloo. I also worked as a visiting scientist at CanmetMATERIALS, part of Natural Resources Canada, for a year, as part of an NSERC fellowship, before coming to UNB in 2015.
While I was an undergraduate student, I realized that I could use math to design new materials and fabrication processes. Additive manufacturing was a field that brought many of my interests together: math, materials, design, computation, and manufacturing. That has shaped the path of my career since.
What does it mean to you to receive this Canada Research Chair?
That's an overwhelming question! I feel so proud, right now; it's certainly a moment to celebrate. I feel fortunate to have this opportunity, which can be a peak point of a researcher's career. And, while it comes from hard work, dedication and passion, it also came about because of the support I've received from my colleagues here at UNB, from other chairs, and from ORS and Dr. MaGee. I have really felt like I'm part of the UNB family through this process.
What are your areas of inquiry?
I specialize in research on metal additive manufacturing, additive repair and hybrid additive manufacturing. In particular, I focus on the marine and maritime realm, so I'm looking at materials and characteristics that have benefits for shipbuilding – such as corrosion resistance, impact mitigation, mechanical properties and other traits.
The marine realm is one that is very significant in Canada, with shipbuilding and transport activities on both coasts, but one that is still emerging as a focus for additive manufacturing. So, I realized that I could focus on this area to really be able to contribute to the field, not just in Canada, but around the world.
My research is also heavily oriented toward applied research and support for industrial sectors.
What will having this CRC enable?
My CRC research program will bring together a multidisciplinary team with world-recognized expertise in materials characterization, additive manufacturing, and simulation to develop new materials, techniques and procedures for marine applications.
Having this Canada Research Chair provides support on many levels. It will allow me to focus more heavily on my research, of course, but it will also allow me to provide more training and learning opportunities to graduate students and postdoctoral fellows on the path to becoming highly-qualified personnel. In addition to furthering their skills as researchers, their expertise will then be able to help marine industries in the region adopt these new practices and technologies.
As well, Canada Research Chairs are well-known, around the globe. This gives us more opportunities to attract some of the best and brightest in the world to work with us, and more opportunities to establish collaborative partnerships.
Why is this work important, to you and to our communities?
Over the next five years, we are going to work with marine industries to see if they can adopt additive manufacturing into their supply chain. We believe we have the opportunity to revolutionize industrial practices in a way that is better, safer, cleaner and cheaper. For example, there is the possibility of developing new materials that have special properties needed for the sector, new ways of repairing and maintaining ships and parts, ways of conducting these repairs onboard while at sea, and so on.
Currently, our work is at the research and development stage. We're going to see if we can bring these technologies and processes to life and implement them. If we can incorporate these into the next generation of Canadian ships, then to me, we'll have succeeded.
I would say that in addition to advancing research knowledge, our marine sector industries stand to benefit most from our work. We'll actually be removing barriers for adopting additive manufacturing practices, by trialling and providing opportunities to experiment in our lab.
But while industry will likely benefit most, I think we will all win: if we have successful industries and cutting-edge solutions, the private sector wins, government wins, post-secondary institutions win. We become more relevant on the global stage, our communities are more prosperous, our environmental impact is lessened.