UNB researchers will advance national cybersecurity knowledge and capabilities
Author: Jeremy Elder-Jubelin
Posted on Oct 31, 2023
Category: UNB Saint John , UNB Fredericton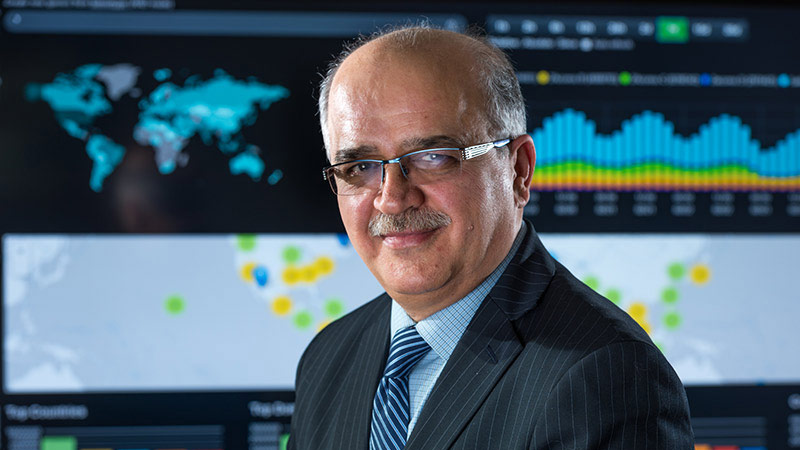 Three cybersecurity projects led by the University of New Brunswick (UNB) are among the 20 research and development, commercialization and training projects that will receive a total of $11.2 million in funding from the recently established National Cybersecurity Consortium (NCC). The funding bundle, announced today, represents the first major research investment by the NCC under the Cyber Security Innovation Network (CSIN) program. Combined, UNB's three projects will receive just over $1.5 million in funding.
"Congratulations to all of the funding recipients announced today, and especially to our very own researchers and scholars," said Dr. David MaGee, UNB's vice-president (research). "We are proud to have been one of the founding members of the NCC and to see its vision flourish for making Canada safer through a national community of practice. I am eager to see the results of these projects."
UNB is home to Canada's first dedicated faculty of computer science, the Canadian Institute for Cybersecurity (CIC) and many innovative scholars and impactful projects. Building on this strength, UNB has received nearly $1 million to support the creation of a new graduate-level master's program in cybersecurity management. The program will include a multidisciplinary perspective and was jointly proposed by the faculties of computer science, law and management.
The program will increase UNB's ability to support the ever-growing need for experts who can help lead businesses, organizations, communities and governments in responding to the growing impact of cybersecurity threats.
The growing capabilities of quantum computing offer unprecedented potential for speed and computing power, creating both new opportunities as well as new threats. Security measures previously considered too difficult to compromise quickly enough to be a concern may no longer be so.
Dr. Rongxing Lu, Mastercard IoT Research Chair at UNB and professor of computer science, will lead a project to develop new strategies and technologies for maintaining the security and confidentiality of data in this new environment. His Post-Quantum Hardware Security Module Migration Research Project has been awarded $286,000 in funding.
As technological systems and infrastructure continue to grow in size, variety and complexity, so do the myriad ways attackers may be able to use to compromise them. This complex landscape renders traditional methods of vulnerability identification more labour-intensive and more prone to overlooking threat vectors.
With $240,750 in funding from the NCC, Dr. Ali Ghorbani, Canada Research Chair in Cybersecurity and professor of computer science and director of UNB's CIC, will lead a project that explores the advanced opportunities afforded by artificial intelligence (AI) and machine learning techniques. Through this project, the team seeks to develop efficient, automated detection to identify and mitigate vulnerabilities ranging from human behaviour to hardware systems to software configurations.
These research projects advance UNB's continued leadership in the cybersecurity space and bolster the institution's growing focus on AI and data science research alongside the new Research Institute in Data Science and Artificial Intelligence. The projects will enable innovative insights that can be transferred and implemented by industry, community and government and will provide opportunities for next-generation experts to gain valuable experience and hone their skills.
The NCC was established in 2022 with five founding institutional members, including UNB. It is a pan-Canadian network that supports the advancement of the Canadian cybersecurity ecosystem through research and development, commercialization and training. It seeks to drive collaboration among universities, private industry, not-for-profit organizations, governments and other key cybersecurity stakeholders. The CSIN program, administered by the NCC, was established by Innovation, Science and Economic Development Canada to support the growth of a comprehensive and collaborative Canadian cyber security innovation ecosystem.