UNB puts big push on bringing big data and AI expertise to industry and community
Author: Jeremy Elder-Jubelin
Posted on Aug 23, 2023
Category: UNB Fredericton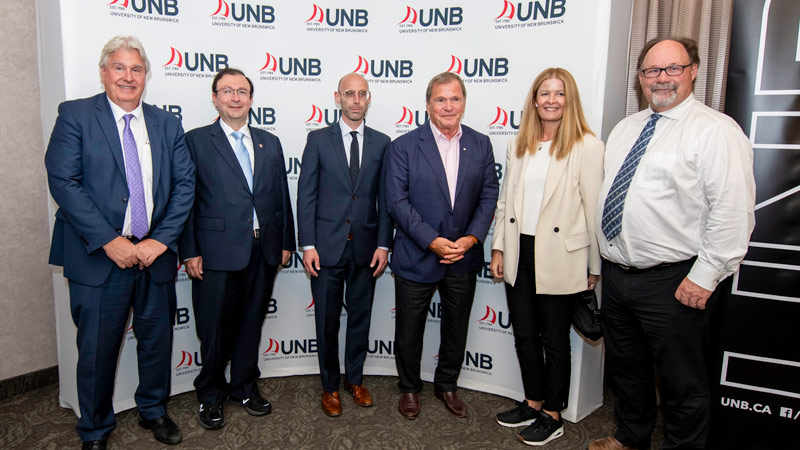 These days, artificial intelligence (AI) and data science are everywhere. From ChatGPT and Alexa to the most advanced research labs, the world increasingly relies on complex processes and vast amounts of data in areas like stock trading, image restoration, translation and developing new medications.
At the University of New Brunswick (UNB), a new research institute has been launched to help companies, community groups and government understand, create and leverage a technology that PwC project could have a global economic impact of $15.7 trillion by 2030.
The UNB Research Institute in Data Science and Artificial Intelligence (RIDSAI) was launched at an event on August 22 that brought together members of the academic, industry and government communities to set the stage for the future of AI and data science in New Brunswick. Speakers included the Hon. Frank McKenna, former premier of New Brunswick and benefactor of UNB's McKenna Institute; Erin Barrett, CEO of Eigen Innovations; and renowned AI expert and visionary, Dr. Kai-Fu Lee.
The institute will bring together scholars from across the university to discover, create and deliver fundamental knowledge and innovative solutions to the people and groups who need it most.
"At UNB, we are dedicated to undertaking transformational research that addresses society's grand challenges and to transferring the resulting knowledge and solutions to our communities," said Dr. Paul J, Mazerolle, UNB president and vice-chancellor. "By supporting digital transformation through AI and data science leadership, we can advance our mission of building a stronger New Brunswick."
The RIDSAI builds on UNB's strength in data science and AI scholarship. Many of the university's researchers are at the forefront of AI and data science inquiry, leveraging these advanced capabilities for everything from disease modeling to language instruction to gaming. Others are exploring the ethical, legal and political ramifications of this transformative technology, bringing that expertise to bear to ensure that AI works effectively and functions justly.
Dr. Paul Cook, the Institute's interim director and associate professor of computer science, is a researcher who explores the intersection of AI and human language. He is eager to see partnerships flourish.
"The potential applications – and benefits – of data science and AI are limited only by our imagination," he said. "By working collaboratively, as researchers, industry and community, we can combine our creativity and our expertise to benefit New Brunswick, Atlantic Canada and beyond."
The RIDSAI has been born not just from the recognition of UNB's research leadership but also from visionary minds that see its potential value and impact. Among those are Mr. Frank McKenna, the benefactor of UNB's McKenna Institute, an entrepreneurial centre driving digital transformation in New Brunswick, and various other donors, who together provided $3.5 million in financial support.
The Institute's research collaborations are being facilitated by UNB's Research and Innovation Partnerships group. Individuals interested in working with the Institute, or any of UNB's other leading researchers, are invited to visit unb.ca/innovation for more information.