Land blessing ceremony paves the way for future site of UNB's HSIC
Author: Angie Deveau
Posted on Jun 29, 2023
Category: UNB Fredericton , UNB Saint John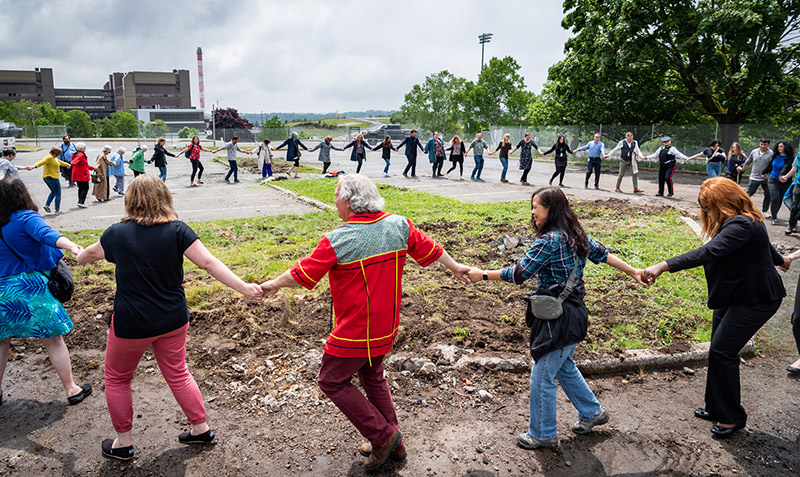 On a drizzly day in June, the community gathered for a blessing of the future site of the Health and Social Innovation Centre (HSIC) at the University of New Brunswick Saint John campus.
Evan Sacobie, fire keeper from Sitansisk, assisted by Jim Langmaid, prepared the sacred fire on the grounds of the Ward Chipman Library with students, faculty, staff, community members and donors on hand for the ceremony.
After they lit the fire, Todd Ross, Indigenous Advisor on UNB's Saint John campus, delivered opening remarks.
"Wabanquot is my spirit name," he said. "I am [from] the Eagle Clan, and my grandmother is from Duck Lake. I am Metis, and I'm Red River Metis."
He explained how the Wolostaq River connects UNB's two campuses between Fredericton and Saint John.
"The Wolostaq is an old highway, a travel route where the Wolastoqiyik [came] down to this area, called Menahqesk, originally," he said. "And [they] would meet here, meet with the Mi'kmaw [and] meet the Passamaquoddy...Saint John or Menahqesk is a traditional meeting area, so it's appropriate that we are all meeting today."
Elder Jeannie Bartibogue, from Esgenoôpetitj, is the Kcicihtuwinut, Knowledge Carrier-in-Residence at UNB. She led an opening prayer.
As Elder Bartibogue spoke, the rain stopped. And as the sun pierced through the clouds, it cast a gentle warmth upon the crowd. As the sacred fire flames flickered, the attendees watched intently as they connected with and honoured ancestral traditions.
Dr. Petra Hauf, vice-president Saint John at UNB, delivered greetings on behalf of UNB. She said the event was the start of an exciting chapter.
"UNB's Integrated Health Initiative (IHI) will be housed right here," she said. "The IHI is an interdisciplinary initiative that develops educational pathways, applied research, social and technical innovations to move health systems forward."
Kateri Hibbert, a City of Saint John staff member from the Sipekne'katik First Nation, also attended and spoke on behalf of Her Worship Mayor Donna Reardon.
Hibbert emphasized the importance of reconciliation, highlighting that it requires patience, respect and collective effort to uplift marginalized communities.
"Every step taken towards reconciliation holds significance," she said.
Recognizing the fruitful collaboration between UNB and the City of Saint John, she expressed optimism about the positive outcomes the IHI would bring to the city and broader horizons.
Following Hibbert's remarks, Elder Bartibogue led a ceremony inviting each person gathered to connect more fully with each other and with the land. Organizers also invited the audience to engage in a drum circle and traditional dance. The participants joined hands, ready to immerse themselves in the cultural experience.
"When we lose sight of love, we look into the eyes of our children and that's where we will see that love reside," said Elder Bartibogue. "[We will also see] what our purpose is in this life, to create a new way of life where we all live in peace and harmony."
Elder Bartibogue talked about the importance of actions like this blessing ceremony.
"[This is] just a small difference, but that's where it starts. Little steps [are] where we'll begin our healing, and this is one little step."
Before closing, the organizers invited members of the crowd to watch the unveiling of three captivating pieces of Indigenous artwork.
Later that day, Ross reflected on how the gathering served as a reminder of the enduring strength and beauty of Wabanaki culture. He also discussed how it could foster greater understanding and appreciation among diverse communities.
He said the day was all about preparing the site and the land, so the new building starts off, "in a good way."
He explained how they laid the foundation before the concrete was poured in. "This is the foundation of culture; it is bringing in Wabanaki ways," he said.
Ross also explained the significance of the two-row wampum and how the university needs to embrace this way of thinking moving forward.
"The symbology [of the two-row wampum] is two communities or two cultures that are going side-by-side, never crossing, not interfering with each other, but going together," he said. "We have a long way to go, but we are seeing that hope. We are seeing that soot being lifted off or that sun breaking out."
He said the land blessing will help them find their way to hope, transformation and a shared commitment to healing the past.
"These grounds are a place of cultural significance and community gathering," said Ross. "Whenever rain falls on these grounds, it will remind us of this important day."
Learn more about how UNB is transforming health education, research and social innovation in New Brunswick and beyond.