Women's rugby and law leaders among those celebrated at UNB Alumni Awards
Author: UNB Newsroom
Posted on Apr 24, 2023
Category: UNB Fredericton , UNB Saint John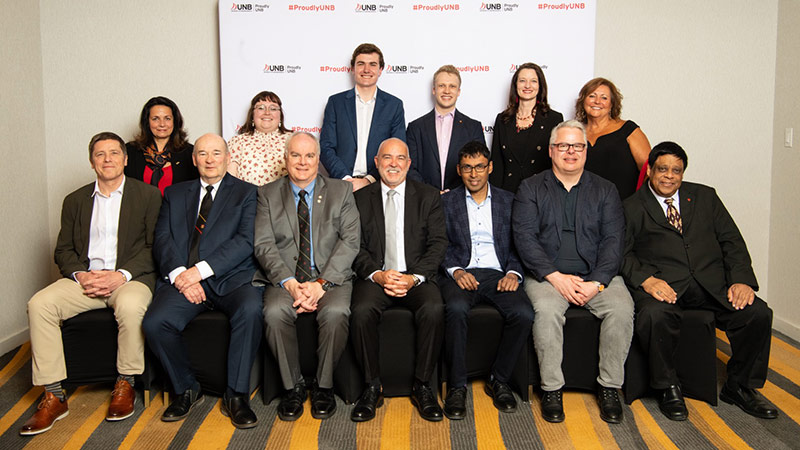 What do a medical student, World Rugby Council finance chair and founder of the Queer Studies Association of Canada have in common? They are all University of New Brunswick (UNB) graduates and now they are also recipients of Proudly UNB Awards.
This diverse and impressive group is joining other UNB alumni at the Associated Alumni Proudly UNB Awards, which honour UNB alumni for outstanding service to their alma mater, communities, province or country and beyond.
"We are so proud of our alumni for the remarkable work they're doing around the world in their fields and through their volunteer and community efforts," said UNB Associated Alumni president Jill Jeffrey (BPE'82, BEd'83). "From representing our region on the global rugby stage to developing novel technologies that could revolutionize human health, these alumni are truly making an impact.
"The 2023 Proudly UNB Awards dinner is an opportunity to celebrate these outstanding nominees, who are incredibly deserving of this recognition and are an inspiration to the UNB community," Jeffrey added.
Recipients were honoured at a reception and dinner at the Delta Hotel in Saint John on April 21.
Alumni Award of Honour
Larry Hachey (BBA'87), community leader, past chair of UNB's Board of Governors and former president of UNB Associated Alumni.
Alumni Award of Distinction
Cristina Flores Justic (BPE'83), women's rugby leader and finance committee chair of the World Rugby Council.
Dr. Raouf Khodabocus (BA'87, MSc'89, PhD'93), educational trailblazer and principal and chief examination officer of Kuwait National English School.
Dr. James A. Stewart (BScDA'97, MCS'99, PhD'17), entrepreneur, innovator and founder of leading-edge technology company TrojAI.
Dr. Kumanan R. Wilson (BSc'92), professor and faculty of medicine clinical research chair in digital health innovation at the University of Ottawa and co-founder of CANImmunize, a digital vaccination record for Canadians.
The Hon. Gladys J. Young (BA'69, LLB'72), New Brunswick's first woman provincial crown prosecutor and judge for the Supreme Court of New Brunswick, Queen's Bench division (now the Court of King's Bench of New Brunswick).
Young Alumni Achievement Award
Rachel Friars (BA'18), founder of the Queer Studies Association of Canada, teaching assistant at Queen's University and co-creator of True Crime Index.
Matthew MacLennan (BScEE/BioMed'20), medical student, chair of the Conference of Atlantic Medical Students and founder of the St. John Ambulance Campus Response Team.
Jackson A. Weir (BSc'21), PhD student at Harvard University and co-developer of a biomedical sequencing technology that could revolutionize how researchers understand Alzheimer's and cancer.
Alumni Volunteer of the Year
Jeffrey R. Knapp (BscME'87), a long-standing participant and dedicated volunteer with the UNB IRONMEN golf tournament, spearheading digital archival of the club's records.
Alumni Group of the Year
The UNB Men's Hockey Fellows Society Reunion Committee worked tirelessly to organize the first UNB Men's Hockey Reunion. The event brought together 64 UNB hockey alumni and raised over $10,000 for the university's hockey program.
Honorary Alumni Membership
Robyn J. Tingley is an outstanding ambassador for the UNB community. She has served as a long-time member of the UNB Board of Governors and was appointed chair in 2021. In addition to her many notable recognitions, Tingley was honoured with the Order of New Brunswick for her work promoting equity, gender diversity and inclusive work environments. She is an author, communications strategist, public speaker and founder of GlassSKY Inc.