Kinesiology students apply classroom learning in the community at long-term care homes
Author: UNB Newsroom
Posted on Mar 8, 2023
Category: UNB Fredericton , UNB Saint John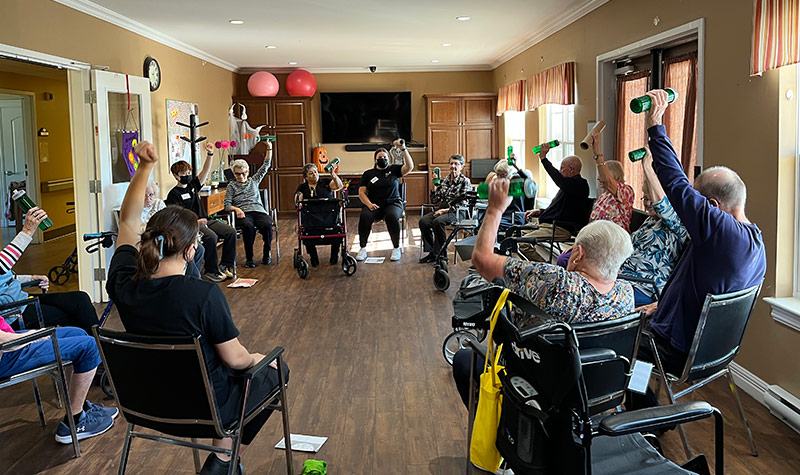 When students from the University of New Brunswick's (UNB) Physical Activity and Aging class had the opportunity to visit older adults living in a variety of long-term care settings and retirement residences, it gave them hands-on experience and a greater appreciation for what they were learning in the classroom.
"I distinctly remember the first day looking at the number of participants with wheelchairs and thinking, 'oh my, this is going to be tough,' but seeing us change the mood of many of the participants during the class brought me great joy," one student wrote in their reflective report their professor, Dr. Danielle Bouchard, assigned to them.
"I really enjoyed having a practical experience in this class," wrote another. "It helped us better relate class content to real-life scenarios. By offering students the opportunity to learn about working with older adults in the community, it gives us a different perspective on older adults and the challenges they face."
The Physical Activity and Aging course, offered by the faculty of kinesiology, examines the aging processes and the effects of exercise and lifestyle factors on the health and fitness of aging adults. It provides students with theoretical knowledge and the chance to apply it to real-life situations.
With the support of Bouchard, students visit up to four diverse locations where they experience four different levels of care.
"Students learn and conduct common fitness tests which allow them to interpret each participant's baseline level and develop a program accordingly," said Bouchard. "Every three weeks, students switch locations, ensuring they all have the opportunity to see and understand each site and their unique needs."
This hands-on experience is at the centre of UNB's experiential learning programs, which work to give students the opportunity to construct knowledge, skills and value from real experience. And, much like many of the faculties at UNB, the work being done in the faculty of kinesiology is a direct demonstration of how aspiration meets reality and experiential education opportunities benefit students, employers and communities.
"Students feel empowered while taking part in this course," said Bouchard. "I notice a light in them as they learn first-hand how their presence brings real value outside of the classroom and can see their theoretical learning come to life in practice."
By engaging directly with community members in authentic experiences, students see immediately that they help improve the quality of life for those who live in assisted living facilities. And it provides valuable insight into career opportunities.
"The practical learning allowed me to gain experience working in a nursing home which I now see could be a location I work in as part of my career," wrote a student in their reflective report.
UNB's Strategic Vision Toward 2030 outlines an ambitious and exciting plan to enhance experiential education at the university. UNB is working to create experiential learning opportunities for all UNB students.
Opportunities in experiential education are available on both UNB campuses.